More Douglas County Commission races
Breaking Political News
Want to be among the first to know about news on the Nov. 4 election? As soon as results are in, or whenever breaking political news happens, the news will be in your e-mail or on your cell phone - you choose.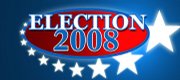 In-depth coverage of the candidates and the issues, all leading up to the Aug. 5 primary and the Nov. 4 general election.
The 2nd District Douglas County Commission race has centered on issues of growth, economic development and budgeting.
Both candidates - Democrat Nancy Thellman, of rural Lawrence, and Republican David L. Brown, of rural Vinland - say they are the best person to deal with the tough issues.
"I bring to the table a certain comfort level working with people and a real sense of calling to try to help people work together to find common solutions," said Thellman, a Presbyterian minister.
She helped lead opposition recently to a proposed development near the Lawrence Municipal Airport because she said the prime farm soils need to be protected and there were flooding concerns.
Brown, a retired Douglas County sheriff's officer and farmer and rancher, said he had concerns about flooding related to the proposed development.
He said he could help the county work with other cities such as Baldwin City, Eudora and Lecompton to recruit business and help grow the tax base.
That will be the long-term solution to help tougher economic times, he said, but currently the commission is faced with trying to keep property taxes down and to maintain existing services.
"I can make the tough decisions and know that I did the best that I can do," Brown said.
Thellman has opposed the 32nd Street alignment for the South Lawrence Trafficway's completion, while Brown supports it.
The district includes Baldwin City, Eudora, North Lawrence, southeastern Lawrence and most of eastern Douglas County. Both candidates would like to see the county help with development of the former Farmland Industries site north of Kansas Highway 10.
Brown defeated Grant Eichhorn, of rural Lawrence, in the August primary, and Thellman defeated Ken Adkinson, of Eudora. The candidates are seeking to replace Republican Commissioner Bob Johnson, who did not seek re-election.
Copyright 2018 The Lawrence Journal-World. All rights reserved. This material may not be published, broadcast, rewritten or redistributed. We strive to uphold our values for every story published.