Audio Clips
2008 Oct. 31 KU basketball practice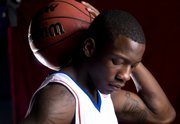 When freshman Tyshawn Taylor arrived at Kansas University from New Jersey this summer, he had no problem showcasing his outgoing personality to his teammates. Put Taylor in front of anybody and he could likely hold an hour-long conversation without hesitation or any awkward, long-lasting silence.
Socially, life was good for Taylor.
Physically, though, at 160 pounds, he had some work to do.
"When he was first here, I used to mess with him about being light, skinny and frail," junior guard Sherron Collins said of Taylor. "He might be getting out of the shower or take his shirt off, and he's looking and flexing a little bit, and I'm just looking at him like, 'Ohh, put your shirt back on.' We just joke around like that."
Collins has been like a big brother to Taylor, instantly taking the 6-foot-2 guard under his guidance and showing him the ropes of Lawrence. They get haircuts together. They shop downtown at Urban Outfitters, their favorite store, together. Collins also was honest with Taylor. He told him to get in the weight room and work on his frame.
Taylor listened. He currently weighs 178 pounds, and he's now benching 200. It's made a difference on the floor.
Even before Taylor hit the weight room at KU, he could turn some heads on the basketball court. Think Collins is fast with the ball? Collins said Taylor was even faster in the open court. Taylor led his high school team, St. Anthony in Jersey City, N.J., to a state title (32-0) and a USA Today mythical national championship last season. Don't let the modest-looking 10 points and five assists per game fool you. St. Anthony blew teams out so badly that Taylor rarely played in second halves.
"My biggest strength is probably my quickness," Taylor said. "I mean, I like to say I'm a little creative with the ball and can create for my teammates. I love getting guys open shots. I feel a lot better getting an assist than getting a bucket any day."
Copyright 2018 The Lawrence Journal-World. All rights reserved. This material may not be published, broadcast, rewritten or redistributed. We strive to uphold our values for every story published.