Photo Gallery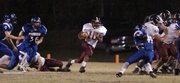 Lawrence High football vs. Leavenworth
Leavenworth — Finally, a Lawrence High running back broke loose for long touchdown scampers.
Jake Green uncorked TD runs of 46 and 64 yards as the Lions leveled Leavenworth, 49-21, on Friday night at Abeles Field.
Until running into the passive Pioneers, the Lions' longest TD run had been a 32-yard reverse by end Aaron Rea.
"It's been there," Green said of the long-awaited breakaway TD gallop. "We've been almost all year."
Both of Green's TD jaunts occurred basically the same way. The 6-foot, 162-pound senior bolted off right tackle behind Stephen Mason and Chebon Dawes, then cut back to the middle and raced down the left sideline.
"I don't know where Jake got that cutback," Lions' coach Dirk Wedd said with a smile.
Wedd and everyone else on the LHS sideline were doing a lot of smiling after the Lions hit the Pioneers with a 28-point haymaker in the first quarter.
"Coach preached all week about coming out and hitting them in the mouth early and good things will happen," Green said.
Lawrence hit 'em in the mouth on its second play when quarterback Clint Pinnick hit Rea on an apparent 72-yard touchdown pass. The officials ruled, however, that Rea had stepped out of bounds at the Leavenworth two-yard line.
No matter, Green bolted over on the next play for his first - and shortest - TD gallop of the night. On the Lions' next possession, Green unfurled his 46-yarder. On the third possession, Pinnick fooled the Pioneers on a naked reverse and scored on a 21-yard run.
Fewer than eight minutes had elapsed on the scoreboard clock, and the Lions led, 21-0. And a dagger would soon follow.
When Leavenworth punter Ryan Lasneske was forced to kick out of his own end zone, the Lions' Ryan Giblin bolted through and blocked the punt. Moments later, teammate Jay Baker fell on it in the end zone for the Lions' fourth score.
With 2:16 remaining in the first quarter, Lawrence led 28-0.
"We had worked on that," Wedd said of the block. "We saw they had given up a couple (earlier in the season), and we sent two after the punter instead of one, and Gibby got it."
Added Baker, a junior who plays the other defensive end, about his first high school TD: "All the credit goes to Ryan. He's the only reason I got the touchdown."
Green finished with a season-high 172 rushing yards, and he carried just 11 times. Wedd used reserves during most of the second half.
Friday's regular season finale was light years away from last year's stunning 35-28 loss at Topeka High, a defeat that kept the Lions out of the Class 6A playoffs.
"When you miss something you think is yours, it really hurts," Wedd said. "That was a long bus ride back from Topeka."
This time the Lions enjoyed a shorter bus ride back from Leavenworth.
"This game was a must for us," Green said. "We didn't want to go out like we did last year."
The Lions (4-5) will likely travel to Blue Valley for a first-round 6A playoff game next Friday night.
"It's a great feeling to be in the playoffs," the Lions' Baker said. "We'll have to step up our game, and practice hard next week."
Leavenworth finished its season with a 1-8 record. The Pioneers lone victory was an overtime decision over Shawnee Mission North.
Interestingly, one of Leavenworth's three touchdowns was a 90-yard kickoff return by Warren Brown. That's the same Pioneer who returned a kickoff 94 yards for a TD against Free State High two weeks ago and was featured on ESPN's Sports Center.
Copyright 2018 The Lawrence Journal-World. All rights reserved. This material may not be published, broadcast, rewritten or redistributed. We strive to uphold our values for every story published.