Photo Gallery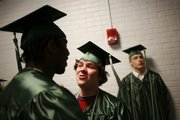 Free State High School Commencement 2008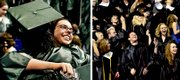 Check out photos, videos and databases of the Lawrence area high school class of 2008.
Graduation 2008
Share photos of your 2008 high school graduate
Their list of Free State High School accomplishments is long, but members of the class of 2008 say it's the journey they enjoyed the most.
"We were budding when we walked in, and we are blooming as we walk out," said Mariya Javed during an address to fellow graduates Sunday afternoon at Allen Fieldhouse.
Friends and family members cheered throughout the 90-minute commencement ceremony even as temperatures inside hovered above 80 degrees.
The 372 graduates who participated wanted to focus on the future as they joyously accepted their diplomas, took in words of wisdom and celebrated with fellow classmates.
Graduation day also brings new challenges.
"I'm scared, but I'm really excited to meet new people and do new things," said Kayley Lane, who will attend Kansas University.
"I'm thinking: How the heck am I going to pay for college?" said Pat Brown, who plans to attend Johnson County Community College to study computer technology.
Reflecting on their three years at Free State, graduates said they were most proud of balancing academic and athletic achievements with having a close-knit senior class.
"It seems like everyone's having fun most of the time," said graduate Brittanie Williams.
A mother-daughter tandem - in separate speeches - also encouraged the graduates to continue their success in the future.
"The good deeds we do will always be more gratifying than the gifts you receive," said graduate Erin Robinson, one of 28 valedictorians.
Her mother, school board President Linda Robinson, told the graduates to rely on what they have learned as they move forward.
"You will have meaningful causes with which to invest your energies and talents," she said in a speech she also delivered at the Lawrence High School graduation later in the day.
The graduates also celebrated the careers of two Free State educators.
Students selected English teacher Phyllis Copt as teacher of the year. Copt is retiring after more than 25 years with Lawrence public schools.
Also, the school's only principal, Joe Snyder, is retiring after leading the school since 1996 - one year before it officially opened.
Snyder kept the focus mainly on the students, but he said was proud the high school now has 3,500 alumni.
"(The graduates) embody our hopes for the future of Free State, the Lawrence community and myself because they've done great things and appear ready to move forward," Snyder said.
Students said it was significant that the first principal was "graduating" with them.
"The 11th class of Free State - Dr. Snyder is a member in that class," said Andrew Boyd, who will attend Pittsburg State University.
Copyright 2017 The Lawrence Journal-World. All rights reserved. This material may not be published, broadcast, rewritten or redistributed. We strive to uphold our values for every story published.