Photo Gallery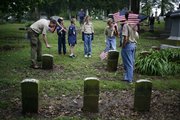 Boy Scouts assist the Sons of Union Veterans of the Civil War
Many of the names carved into the ancient headstones at Oak Hill Cemetery are barely visible, glazed in moss and weathered by time. Some grave markers are obscured by piles of leaves or overgrown plants. And the names of Union soldiers, like Prather, Clarke, McCabria and Larterburg meant little to the packs of Boy Scouts and Cub Scouts wandering around the cemetery Saturday.
But the grown-ups accompanying them - parents and scoutmasters - hoped the boys would come away with an appreciation for the Civil War veterans buried in the east Lawrence cemetery. More than 30 scouts carried bundles of American flags and placed them in front of the headstones of about 150 soldiers, many of which show that they came to Lawrence after the war, from places like Ohio, Illinois and New York.
"We're trying to make sure those veterans get their due. It was 150 years ago, but we want them to be remembered," said troop leader Brian VanSchmus, who is also a member of the Sons of Union Veterans of the Civil War, which spearheaded the scouts' involvement. The Veterans of Foreign Wars and American Legion place flags in front of the grave markers of veterans from more recent conflicts. Scouts from Cub Scout Packs 2052 and 3055 and Boy Scout Troops 60 and 53 participated in Saturday's event.
The group placed flags in front of a memorial for unknown soldiers and gathered around the grave of Samson Berry, a soldier in the Union Army's Colored Troop, as VanSchmus explained the involvement of blacks in the Civil War. The scouts paused at another grave, which memorialized William Scott, a former slave.
The young scouts recognized the need to remember veterans on Memorial Day.
"It's important to honor people who fought in the Civil War because they freed our country," said Izaak Workman, 10, part of Boy Scout Troop 53.
For Harry Smith, a Boy Scout district officer from Lawrence, it was equally important to remember all veterans. Smith served in the Marine Corps from 1972 to 1992.
"A lot of the younger guys don't quite understand" the significance of Memorial Day, he said. "Doing things like this shows these guys respect not just for the military, but for (the) community."
Janet Matthews, a den mother with Pack 3052, said the scouts continue to learn about Memorial Day and the reasons for honoring the country's war dead.
"I think they are learning a lot. It's not something they've internalized before," she said. "Each year they learn a little bit more."
Copyright 2018 The Lawrence Journal-World. All rights reserved. This material may not be published, broadcast, rewritten or redistributed. We strive to uphold our values for every story published.