Interview with Taylor relative about valuable 1905 World Series pin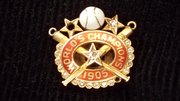 Baldwin City — The Prairie City Cemetery sits off the beaten path on the southwest edge of Baldwin City. The typical feel of solitude at a graveyard seems magnified here. A visitor tends to notice the little things. The wind whistles through the trees. Songbirds incessantly chatter. A train whistle blares in the distance; sounds normally lost in the din of every day life.
Sounds completely absent from the life of perhaps this cemetery's most famous resident - Luther "Dummy" Taylor, a deaf-mute who pitched for the New York Giants for eight years at the beginning of the 20th century.
"He was an outstanding pitcher. He did a lot of things that some people didn't know deaf people could do," said Dave Anderson, a local author who has researched Taylor's life.
"He would sense what people would do before they did it. He was a ballplayer who had a tremendous amount of savvy for the game."
But for years, the modest slab of granite that marked Taylor's grave provided no insight into the amazing story of the man's life. It only said he was born in 1875 and died in 1958.
But that's changed.
With the help of the Baldwin City Rotary, Olathe Santa Fe Trail Rotary, Society for American Baseball Research, and Taylor's family, Anderson raised $2,400 for a new monument at Taylor's final resting place.
"I think it's wonderful that somebody stepped up and did this," said Pat Copeland, a relative of Taylor's. "It means a lot to us that he's finally recognized."
Copeland fondly recalls time spent at her Wichita home in the early 1950s with the man she affectionately refers to as "Uncle Dummy." Taylor was her grandmother's brother.
"He was real good with kids. : He played ball with all of us. We thought he was kind of joking that he was a good ball player," said Copeland, 65, now of Overland Park.
The numbers show he compiled a 116-106 record between 1900 and 1908. He spent half the 1902 season with Cleveland, and the rest of his career with the Giants. He was a member of the New York team that won the 1905 World Series, and was scheduled to start Game 3 - before it was rained out.
Taylor's teammates in New York learned sign language and took other measures to make sure he was included - even outside the stadium, Anderson said.
"He went to Vaudeville shows, and he went to all kinds of parties because he was part of the team, and I think that was a big part of why Dummy Taylor (was so popular). They just liked him."
A dedication for the new monument - which was installed Wedneday - at Taylor's gravesite is set for 10 a.m. Saturday at the Prairie City Cemetery, which is near Douglas County Roads East 1600 and North 200 in Baldwin City. Anderson hopes it brings more prominence to this amazing tale.
"I think people need to know that there were people that were (here) before you who did some really neat things, and we need to recognize that."
Copyright 2018 The Lawrence Journal-World. All rights reserved. This material may not be published, broadcast, rewritten or redistributed. We strive to uphold our values for every story published.