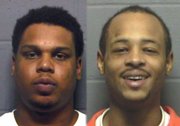 Two men suspected of murdering a local hip-hop musician nearly two years ago had their first appearances Friday in Douglas County District Court.
Major C. Edwards Jr., 29, Lawrence, and Durell A. Jones, 23, Kansas City, Kan., are charged with one count each of premeditated first-degree murder. Both had been in federal custody because of convictions in U.S. District Court. They recently were transferred to Douglas County Jail.
Edwards and Jones are charged in the murder of Lawrence musician Anthony "Clacc" Vital, 28. His body was found in October 2006 along (as opposed to "on") a private country lane 2 miles west of Lawrence. He had been shot to death.
Judge Robert Fairchild ordered Edwards and Jones to be brought back to court at 2 p.m. June 3 on the murder charges. A preliminary hearing will be scheduled then.
Edwards also is charged with possession of a depressant, PCP, in an unrelated case. His next court hearing in that case will be 1:30 p.m. June 3.
Edwards and Jones were mostly quiet during their hearings. They appeared over closed-circuit television from the jail.
Edwards pleaded guilty in federal court earlier this year to an unlawful weapons possession charge. He was sentenced to 63 months in prison.
Jones was sentenced May 12 in federal court to 125 months in prison on charges of possession with intent to sell cocaine.
Earlier Friday, Edwards, also known as "Ja Ja," had a hearing in Lawrence Municipal Court on four counts of failure to appear on traffic violations. He told Judge Randy McGrath that he wanted to plead guilty and serve any jail time he might have while he is already being held on the federal conviction. McGrath set a court hearing for 10:30 a.m. June 3. At that time, Edwards can formally make his plea.
Copyright 2018 The Lawrence Journal-World. All rights reserved. This material may not be published, broadcast, rewritten or redistributed. We strive to uphold our values for every story published.