Photo Gallery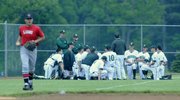 LHS vs. FSHS at State Quarterfinals
Free State High School and Lawrence High School will meet at 11 a.m. today at Hummer Park in Topeka. Live updates will begin soon after.
LHS, 11-10, is the No. 8 seed and Free State, 19-2, is the top seed.
The game will be aired in its entirety at 10:30 tonight on Sunflower Broadband Channel 6.
Copyright 2018 The Lawrence Journal-World. All rights reserved. This material may not be published, broadcast, rewritten or redistributed. We strive to uphold our values for every story published.