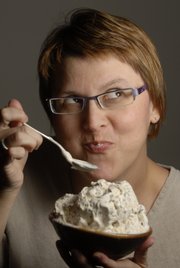 Since Karen Roberts shared her tale with the Lawrence Journal-World of a family ice-cream eating contest, she has become notorious around town as "that ice-cream lady."
After this weekend, Roberts' fame for competing in a feat most of us only fantasize about will surely spread like a scoop of ice cream on a hot summer sidewalk.
Producers at Weekend America came across Roberts' tale of ice cream gluttony shortly after it was published last fall. It was set aside for warmer weather.
"The piece just jumped out," Weekend America editor Jim Gates said. "It really captures the spirit of summer," he said.
Editors at the show - a Minnesota Public Radio program that is distributed to about a 160 stations across the country - asked Roberts if she would be willing to tell her story on air and share it with the rest of the country.
Like a bowl of mint chocolate chip ice cream, it was an offer the self-described ham couldn't resist.
The piece will air this weekend alongside other stories that focus on the coming summer season.
No National Public Radio stations in Kansas carry Weekend America (the closest stations are in Nebraska and Columbia, Mo.). But by Saturday afternoon, Roberts' tale can be found on Weekend America's Web site.
While the story lives on, Roberts said the feat - inspired by a Breyers 2-for-1 sale - has yet to be repeated.
"This was a once-in-a-lifetime thing," she said.
Copyright 2018 The Lawrence Journal-World. All rights reserved. This material may not be published, broadcast, rewritten or redistributed. We strive to uphold our values for every story published.