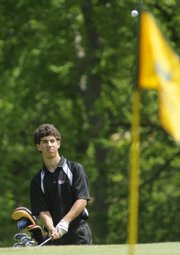 Olathe — Lawrence High sophomore Jon Cohen and Free State High junior Seth McCauley came away from the Class 6A state golf tournament Monday at Shadow Glen Golf Club saying the same thing.
Shadow Glen Golf Club is tough. Nice, but tough.
"The course is unbelievable," Cohen said. "It's in perfect condition. The rough, though, is so penal, and I went in it way too often. It's probably a three-quarters of a stroke penalty every time you go in it. All you can do is hit wedge out of it."
The narrow fairways and treacherous rough of Shadow Glen made it an unforgiving course, FSHS coach Matt Gudenkauf said.
After qualifying with an 83 at Eagle Bend Golf Course in Lawrence, McCauley shot a 93 at Shadow Glen, a 46 on the front nine and a 47 on the back.
McCauley saved himself from trouble on the 14th and 15th holes, but was unable to work out of it on the 16th when he took a double bogey after three-putting.
"I couldn't get my putter working today at all, and everything started going with the heat," McCauley said. "It turned into a long day, and you know, it leaves me wanting more for next year."
Despite his troubles with the putter, McCauley stayed in the middle of the pack and left the tournament happy with the experience of playing in a state tournament.
State tournament experience as a junior could help McCauley during his senior year, Gudenkauf said.
Cohen, a sophomore, also may have a chance to learn from his first state golf tournament, an experience he said was tough from the start.
"I didn't do anything right and got off on the wrong foot," Cohen said. "(I) started off with a quad (-ruple bogey) and then followed up with two triples, so, not much you can do after that,
"It feels awful right now, but I know I can learn from this. It's just part of the process of getting better."
On the back nine, Cohen started getting things together, LHS coach Dirk Wedd said, but another quadruple bogey on the 16th hole set him back again. Cohen ended with a score of 101.
Though Cohen struggled, the experience could help him in the end, Wedd said.
"It's all worth it if he learned from this experience, and we can cash in on this his junior and senior year," Wedd said. "He's a great kid, and he's very, very smart. I think he learned from the front nine to the back nine. So, I think the sky's the limit for him."
Curtis Yonke of Blue Valley West took home the state title after a three-way playoff. Yonke shot a 74. Shawnee Mission East won the team title after shooting a 307, while Blue Valley West finished second with a score of 312.
Copyright 2018 The Lawrence Journal-World. All rights reserved. This material may not be published, broadcast, rewritten or redistributed. We strive to uphold our values for every story published.