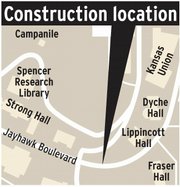 A portion of Jayhawk Boulevard on the Kansas University campus will be closed the remainder of the week, as construction crews begin work on the first phase of a three-year, $8.9 million project.
Contractors began digging a 15-foot-wide and 15-foot-deep trench Monday, allowing workers to access century-old utility steam tunnels that will be repaired.
Jayhawk Boulevard is closed between Mississippi Street and Lilac Lane, and will reopen by Sunday. The same stretch of Jayhawk Boulevard will also be closed from July 1 to Aug. 11.
Mississippi Street will be closed from Memorial Drive to Jayhawk Boulevard through Aug. 11, when it will reopen to southbound traffic only through Nov. 10.
Sunflower Road and Lilac Lane will remain open during the project.
Copyright 2017 The Lawrence Journal-World. All rights reserved. This material may not be published, broadcast, rewritten or redistributed. We strive to uphold our values for every story published.