Photo Gallery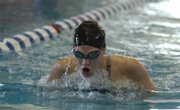 State swimming and diving championship
Topeka — The nerves and pressure that twisted and tugged at the faces and hearts of the Lawrence High girls swimming and diving team Friday gave way to smiles and looks of joy Saturday.
A day after leaving Topeka slightly disappointed by their showing at the state swimming and diving preliminaries at Hummer Sports Park, the LHS girls soaked up the scene and enjoyed every second of Saturday's finals.
They also turned in a strong enough showing to earn 51 team points and place 14th out of 36 schools.
"We're very proud of how we did today," Jessica Boyer said. "Every individual did better today than yesterday, and we had a lot more fun. Next year, we'll be back, and we'll be better."
At Friday's prelims, LHS did not qualify any swimmers for Saturday's championship finals, but the Lions were represented in six events by six competitors at Saturday's action-packed finale.
The brightest of the LHS stars Saturday was senior diver Mallory West. After qualifying for the semifinals in third place, West improved her standing by one spot heading into the finals, where she was aggressive and solid in each of her three attempts. West finished third with an overall score of 387.65 points.
Her top-three finish earned the team 16 points and left West with a feeling of accomplishment at the final competition of her memorable high school career.
"It's perfect," she said. "It's exactly the way I wanted to end, and it was the highest I had placed in my four years."
Although being the only Lion in Saturday's championship finals added some pressure to West's performance, she said she was thrilled to represent her school and her teammates on the state-championship stage.
While none of her teammates reached the championship finals, the Lions made plenty of noise in the consolation finals.
Individually, Sarah Schwartz placed 11th in the 100 backstroke (1:01.95) and 14th in the 100 butterfly (1:01.47), improving her times from Friday in both events. Elle Weber placed 11th in the 100 breaststroke (1:10.27), and the two teamed up on a pair of relays that placed 11th (200 medley, 1:56.03) and 13th (400 freestyle, 3:49.82). Schwartz and Weber were joined by Boyer, Rachel Buchner and Erina Houk on the relays.
One of the classiest moments of Saturday's meet came when Boyer volunteered to be the lap counter for Free State's Morgan Flannigan in the 500 freestyle, a clear sign that, on this day, it was the city of Lawrence against the rest of the state.
Copyright 2018 The Lawrence Journal-World. All rights reserved. This material may not be published, broadcast, rewritten or redistributed. We strive to uphold our values for every story published.