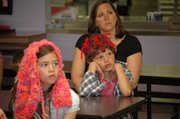 Seth Van Nostrand wasn't able to attend the third annual Crazy Dress Day at McLouth Elementary School on Thursday.
However, fellow third-graders and other MES students did their best to make Seth feel as though he were there.
Seth, 9, has Hunter syndrome, a form of mucopolysaccharidosis, or MPS, a disorder in which the body's enzymes are unable to break down and recycle cell material.
The past two years, Seth attended Crazy Dress Day, an event created to bring about awareness of MPS, which affects just one in 150,000 live births.
This year, Seth was not in school because of hydrocephalus, or pressure on the brain. Misty Van Nostrand said her son has been at Children's Mercy Hospital in Kansas City, Mo., since May 9 to correct the problem. With dad Corey Van Nostrand staying at the hospital with Seth, Misty visited the school Thursday. She showed a video explaining what MPS is and answered students' questions.
To help Seth feel as though he were at the event, students waved to a video camera, which will be shown to Seth at the hospital. Fifth-grade students also made get-well cards.
On Crazy Dress Day, students wore mismatched wardrobes to show support for Seth and his parents.
In all, Misty said Seth has undergone roughly 30 surgeries. She said the family has medical insurance, but the expenses can at times put a strain on finances.
"It's a big prayer to the man upstairs that he comes through it OK," Misty said about coping with Seth's condition.
The life expectancy for those with MPS is 10 to 20 years.
When Seth's health becomes more stable, Misty said she'd like for her family, including sons Darian, 13, and Kent, 5, to start a run/walk for MPS awareness.
Copyright 2018 The Lawrence Journal-World. All rights reserved. This material may not be published, broadcast, rewritten or redistributed. We strive to uphold our values for every story published.