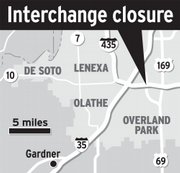 Weather permitting, all eastbound lanes of Interstate 435 at the U.S. Highway 69 interchange in Overland Park will close during overnight hours from Friday through Sunday for bridge construction work, according to the Kansas Department of Transportation.
Closures will include all eastbound lanes of I-435 from U.S. 69 to Antioch Road, the ramp from eastbound I-435 to northbound U.S. 69, and the ramp from southbound U.S. 69 to eastbound I-435.
The areas will close at 10 p.m. Friday and will reopen at 8 a.m. Saturday. The areas will close again at 10 p.m. Saturday and will reopen at 10 a.m. Sunday. Work is expected to be complete Sunday, weather permitting.
A marked detour will be provided. Eastbound I-435 traffic will detour south on U.S. 69 to College Boulevard, and then north to I-435. Drivers should expect delays and are advised to use alternate routes. Updated closure information is available at www.ksdot.org/kcmetro/laneclose.asp.
The work is part of the Focus435, a four-year, $127 million construction project that includes improvements to U.S. 69, I-435 and Antioch Road in Johnson County.
Copyright 2018 The Lawrence Journal-World. All rights reserved. This material may not be published, broadcast, rewritten or redistributed. We strive to uphold our values for every story published.