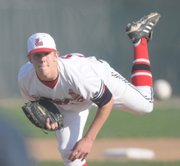 The wounds from last year's regional championship loss are still fresh in the minds of the Free State High baseball players.
Many on this year's 17-2 squad - the most regular-season wins in school history - were on the field or in the dugout last May when the top-seeded Firebirds fell to the fourth-seeded Lawrence Lions in the regional championship game at FSHS.
Though this year's Free State team, which features more seniors than any squad in school history, has taken on a "we'll play anyone, anywhere, any time" attitude, Firebirds coach Mike Hill said he was thrilled that Free State and Lawrence High were on opposite sides of the regional bracket and therefore won't face each other until the state tournament, provided both teams qualify.
"This team is a group of kids that says if we have to play Sisters of the Poor, fine, and if we have to play the Royals, that's OK, too," Hill said. "But there's no doubt that it's uncomfortable when we have to play each other, especially when the game ends one of our seasons."
The reasons for the discomfort are many. For starters, LHS coach Brad Stoll was an assistant under Hill at Free State for seven years and Hill is an alum of LHS. In addition, the rivalry between the two schools often produces a high-intensity affair, and both Hill and Stoll said that can affect the focus of their players.
"You don't want that game to go to state," Stoll said. "We came out on top last year, but there's way too much emotion involved in that game."
So this year the Lions and Firebirds will focus their attention elsewhere, both with an eye on the other as they trudge through their side of the bracket.
LHS opens at 2 p.m. today against Manhattan in Topeka. The Lions are the No. 6 seed in the bracket and will have to go through third-seeded Manhattan and most likely second-seeded Washburn Rural to get to state.
Stoll said his squad is up for the challenge, largely because of the tough regular-season schedule his club played.
"We feel good about our draw," Stoll said. "Manhattan's a good team, and we're going to have to play well to win, but it seems like we match up well with them. The way we've been playing defense, we can do it. Our focus this week has been on offense."
Tom Schuh will start Game 1 on the mound, and Dorian Green will start Game 2 if the Lions advance.
Free State, meanwhile, will face No. 8 seed Leavenworth in the opener on Thursday. A victory would pit the Firebirds against No. 4 Olathe Northwest or No. 5 Junction City.
Either way, both FSHS and LHS are happy to be playing out-of-town foes instead of each other.
"Instead of beating each other out to get to state, we've talked about how great it would be to meet in the first round or the semis or even the state championship," Stoll said.
Copyright 2018 The Lawrence Journal-World. All rights reserved. This material may not be published, broadcast, rewritten or redistributed. We strive to uphold our values for every story published.