Photo Gallery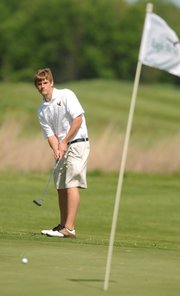 Class 6A State Golf
While Free State High junior Seth McCauley anxiously waited to see if he qualified for next week's Class 6A state golf tournament as an individual, Lawrence High sophomore Jon Cohen was busy wondering if his entire team still had a chance.
In the end, Cohen's Lions fell just short, and McCauley made it easily.
The two city golfers, who each shot 83 Monday at the Class 6A regional tournament at Eagle Bend Golf Course, will travel Monday to Shadow Glen Golf Course in Olathe for the state tournament.
"That's been my goal all year," McCauley said. "It doesn't get much easier than having a regional at your home golf course, so I knew I just had to go out there and get the job done."
McCauley played as the Firebirds' No. 1 golfer Monday and did not disappoint. Playing in the second-to-last group of the day, McCauley finished strong after a rough start to his round.
Using a consistent driver and steady putter, the FSHS junior shot 43 on the front nine and 40 on the back.
"The front nine was a little rough, but I did some work on the back to get back into it," McCauley said. "My putting was pretty decent and I wasn't straying from birdie to double bogey. I stayed right around par and that helped a lot."
McCauley's feat keeps alive Free State's streak of qualifying at least one individual for state in every year of the school's existence.
FSHS finished second as a team at state in 2000.
Cohen played as the Lions' No. 3 golfer at the tourney and wound up turning in the team's top score. Unlike McCauley, Cohen fired his better round on the front nine, shooting 41-42 for the day. However, like McCauley, Cohen saved his best for last, parring the final two holes to earn the trip to state.
That included a memorable par on the 18th, a 430-yard Par 4 that played more like 490 yards on Monday because of a fierce head wind.
"Eighteen's hard," LHS coach Dirk Wedd said. "To do what Jon did on 18 today really takes a lot of guts."
Cohen said Monday's windy conditions made play difficult, but not so difficult that he couldn't function.
"It's not that the wind was unusually strong," Cohen said. "It's just that out here there's nothing to stop it so you feel it all the time. You have to make adjustments and do anything you can to survive it."
LHS missed out on qualifying for state as a team by five strokes. What's worse, three Lions missed out on individual qualifying spots by one stroke each, as Spencer Scott, Joe Noller and Tyler Kahn each shot 87. A score of 86 would have punched their tickets to state.
"I was proud of the kids," Wedd said. "This is the first time a lot of them had played in a pressure situation, and we really made a run."
Olathe South, Olathe East and Olathe Northwest were the three schools to earn team spots at state. South won Monday's regional by eight strokes at 319. East was second with a 327 and Northwest edged out LHS by five with a 339. Free State finished sixth with a team score of 340.
Copyright 2018 The Lawrence Journal-World. All rights reserved. This material may not be published, broadcast, rewritten or redistributed. We strive to uphold our values for every story published.