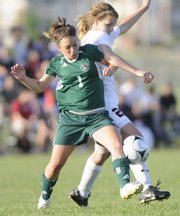 A bellowing voice hit Marley Sutter's eardrums as she scooted up the soccer field Monday evening. It was the first half of Lawrence High's Class 6A regional playoff game with crosstown rival Free State High, and the Lions' freshman forward had just given the ball away. She knew she was going to hear about it.
Sutter turned to look toward the bench.
"Marley," LHS coach Matt Anderson shouted. "Not so many touches."
They were the only five words Sutter needed to hear.
Using fewer, but more useful, touches, Sutter calmly scored the only goal of the game in the 52nd minute, sending LHS past a depleted Free State team, 1-0, at Youth Sports, Inc.
"She could end up being a prolific scorer," Anderson said of Sutter. "I saw her play last year, and the very first thing I thought was, 'If she takes away one touch, she'll be extremely hard to stop.' You see her goal was two touches and shoot rather than three, four, cut and shoot. So, she's definitely going to be a force in the future."
The result was sweet revenge for No. 4 Lawrence, which lost earlier in the season by the same score to the fifth-seeded Firebirds. Except this time around, Free State was missing a couple of key components - sophomore Grace Lang and senior Leah Williams - and looked like an entirely different unit, struggling to keep pace.
LHS maintained possession for much of the game and had several scoring chances in the first half. Kathleen Hermesch missed a shot that skidded off the left side of the net. Becky Davis headed a ball just wide of goal. Megan Andrews, Kaley Tesdahl and Madison Bertrand all came close to breaking through, but the Lions still had nothing to show for it at halftime.
Then came Sutter's heroics.
She out-muscled a defender, changed direction with the ball from the left side of the penalty box and buried a ball in the right corner of the net before being mobbed by all of her teammates.
Strangely, the scenario played out just the way she dreamed of it only minutes before.
"This sounds kind of goofy, but before the half, I was just sitting there staring at the goal," Sutter said. "I was like 'I've got to get one in this game.' I was pumped up for it. I got in there, and I saw it and just took the shot."
For Free State, sophomore Hannah Carlson provided a rare scoring opportunity a minute later. She drove a low free kick into the left corner of the goal, but LHS goalkeeper Emma Lumpe was there for the save.
The Firebirds (5-12) went out the same way they started the season - by being shutout - in what became a recurring theme. Free State finished its season by going five consecutive games without a goal and only scored in one of its final seven games without senior captain Williams.
FSHS coach Jason Pendleton was forced to use six freshman and four sophomores at times in his lineup on Monday, but he refused to make excuses for Free State's disappointing finish.
"We knew even with a full roster of healthy players, it would have been tough for us to create an attack," Pendleton said.
Lawrence (8-9) now has won three consecutive games and will be faced with the task of playing No. 1-seeded Washburn Rural (13-2-2), which advanced to the second round of regionals with a 10-0 drubbing of Junction City.
Kickoff is set for 6 p.m. on Thursday at Washburn Rural.
Copyright 2018 The Lawrence Journal-World. All rights reserved. This material may not be published, broadcast, rewritten or redistributed. We strive to uphold our values for every story published.