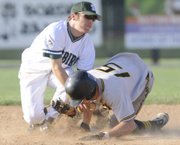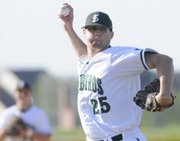 Two John Wilsons suited for Free State High's baseball team Monday night.
For the first three innings, the Firebirds' senior third baseman played like Woodrow Wilson. In the last four frames, however, he looked more like Hack Wilson.
Wilson's late RBI double and three-run home run lifted Free State to a 9-2 victory over Shawnee Mission West and made the Firebirds the undisputed Sunflower League baseball champions.
Free State (17-2) went 11-0 against league teams and has captured a half-dozen league baseball crowns in the 11 years of the school's existence.
"To win six titles in 11 years," Free State coach Mike Hill said, "that's impressive."
No more impressive, though, than Wilson's resiliency in rebounding from his funk after a physics test.
From noon until 3:45 p.m. Monday, Wilson had been sequestered in a classroom taking a physics test for college credit. Wilson will attend the Colorado School of Mines this fall on a baseball scholarship.
The test made the Firebirds' third sacker late for pregame drills, and it showed.
In the first three innings, Wilson was charged with two errors that helped the Vikings score two unearned runs. At the plate, he hit weak ground balls to the shortstop in his first two at-bats.
Not surprisingly, Hill decided he needed to have a talk with his clean-up hitter.
"He pulled me aside," Wilson said, "and told me I was letting the team down."
Hill confirmed he had a few words with Wilson, but emphasized his role in Wilson's mid-game turnaround was minimal.
"I don't know if it's anything I said," Hill remarked. "I mean, he had just taken a four-hour physics test. That was a tough adjustment. All I did was remind him of how good a player he is."
Wilson didn't look like a good player the rest of the way. He looked like a great player. In the fifth inning, with the Firebirds nursing a 3-2 lead, Wilson sent a ringing double into the left-center-field gap for an RBI.
Then, in the sixth, Wilson sent a towering drive over the scoreboard in left-center for a coup de grace three-run homer.
"I've never hit one over the scoreboard before," Wilson said. "I'm sure the wind helped it."
The wind was indeed blowing to left field, yet Wilson was the only player on either team who homered.
Free State will be back on its home field Thursday as host of a four-team Class 6A regional. The top-seeded Firebirds will meet Leavenworth approximately 4:30 p.m., or 30 minutes after the conclusion of the 2 p.m. game between Olathe Northwest and Junction City.
The two afternoon winners will collide approximately 7 p.m. for the regional championship and a berth in the Class 6A state tourney.
Copyright 2018 The Lawrence Journal-World. All rights reserved. This material may not be published, broadcast, rewritten or redistributed. We strive to uphold our values for every story published.