Photo Gallery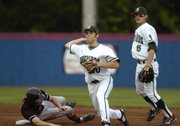 FSHS baseball vs. LHS
Anything you can do, we can do better.
So said the Free State High baseball team Thursday in the form of a 4-3 victory over crosstown rival Lawrence High at Hoglund Ballpark.
One night after spotting the Lions a 4-0 lead and coming back to win, the Firebirds scored four runs in the first inning Thursday, but held on to win for their 16th victory of the season.
"I guess that was kind of deja vu flipped, if that makes any sense," said Free State coach Mike Hill, alluding to LHS's 4-0 lead after an inning Wednesday night. "After the first, we didn't score again, but I don't think we were inept offensively. We hit some balls hard. Lawrence High just made some plays."
Free State senior Adam Rock led off and reached first base on an error, and Jordan Dreiling followed with a walk. Two batters later, senior third baseman John Wilson, who was 3-for-3 on the night, ripped a double to the right-field corner, plating Rock and Dreiling. Wilson then scored on Cody Kukuk's double over the head of LHS center fielder Dorian Green, and Kukuk came home when Alex Hardman stroked a laser down the third-base line.
Thanks to the performance of senior hurler Cody Lown, and the defense behind him, the four runs turned out to be all the Firebirds needed.
"This feels great," Wilson said. "Especially because it was against our rivals from across town. We always want to get the bats going early, and we did that tonight."
Free State's runs came on three hits. The Firebirds managed just four more hits the rest of the night. But that had as much to do with Lawrence High starter Tom Schuh as it did the Free State offense.
After a rough first inning, Schuh matched Lown pitch-for-pitch in a game that wrapped up in one hour and 15 minutes.
"It was a quick game," Hill said. "And I think that's because there were two quality teams out there playing tonight."
After sending just six batters to the plate in the first two innings, the Lions broke through in the third behind RBI hits from Aaron Rea and Devin Forio. The back-to-back, two-out hits cut the FSHS lead to 4-2, but Lown responded by recording one of his two strikeouts on the night to end the inning.
Both teams remained quiet offensively from there until the top of the seventh, when deja vu nearly struck again.
After Lown walked LHS senior Travis Sanders to start the seventh, Hill called for closer Ryan Scott, just as he had done a night earlier after Caleb Gress walked the first Lion he faced in the seventh.
Wednesday, Scott loaded the bases before striking out the final two batters of the game to pick up the save. Thursday's exploits were nearly as dramatic, as LHS first baseman Joe Kornbrust ripped Scott's first pitch to the gap in left-center field, scoring Sanders and putting the tying run at second base.
After Kornbrust advanced to third on a wild play that nearly saw him picked off, LHS coach Brad Stoll elected to roll the dice. With one out and the tying run 90 feet away, Stoll flashed the sign for a suicide squeeze. As Kornbrust broke for home, LHS's Tyler Bailey attempted to bunt the ball down the first base line. Had Bailey put his bat on the ball, Kornbrust would have scored easily. Instead, Bailey whiffed and Kornbrust was tagged out.
"I'm struggling with that," Stoll said. "I feel guilty as hell about it. I don't feel it was the right call. But I'm a hero if it works."
It didn't, and Scott struck out the final two batters he faced to pick up his second save in two days. After spending most of the season stuck in the pen because of the way the Firebirds beat up on their opponents, Scott said he was thrilled to hit the mound, even if he did have to sweat out his fourth and fifth saves of the season.
"I was a little nervous," Scott said. But mostly I was just excited to get out here finally."
The win improved the Firebirds to 16-2 on the season and put them one victory shy of tying a school record for wins in a single season. The Lions fell to 9-9.
Copyright 2018 The Lawrence Journal-World. All rights reserved. This material may not be published, broadcast, rewritten or redistributed. We strive to uphold our values for every story published.