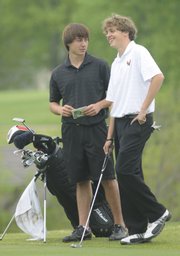 Spencer Scott will tell you he doesn't consider Alvamar Country Club to be his home golf course. He and his Lawrence High boys golf teammates might practice there, but Scott actually belongs to Lawrence Country Club.
After his performance Wednesday afternoon at Alvamar during the Lawrence Invitational, however, perhaps an honorary membership is in order.
"I think so," Lions coach Dirk Wedd said. "Anytime you go under par on Alvamar Public, you're doing something right."
Scott didn't just go under par. He beat out nearly 150 golfers to claim the individual title with a three-under 69 - nine strokes better than his previous best score this season. His total helped carry the Lions to a sixth-place finish in the 25-team field.
"I've shot a few under par on courses just playing with my friends, but that's pretty good for me," Scott said.
His big day included hitting 15 greens in regulation and never having a bogey putt. He parred 15 holes with three birdies.
"He's been our No. 1 guy all year," Wedd said of Scott, a junior who transferred from Hays. "He probably missed five putts inside of five feet, or he would have put something astronomical up."
The feat was even more impressive because of the day's weather conditions. Scott wiped his wedges off through a constant drizzle and was forced to pull out an umbrella on hole 17 to shield himself from heavier rains.
But no downpour could stop Scott, who won by two strokes over Blue Valley West's Mitch Carlson.
"I was just trying to play solid all the way through and keep focusing," Scott said. "We played great as a team. This was by far our best tournament."
As a team, the Lions shot 308, 19 strokes behind first-place Blue Valley West. Joe Noller fired a 78, Jon Cohen a 79 and Alex Thompson an 82 for LHS. Steven Melton and Tyler Kahn shot 90 and 94, respectively.
For Free State High, the day didn't go nearly as well. The Firebirds shot a 346, good for 18th place overall. Free State coach Matt Gudenkauf said he would have liked to get better scores from his top three golfers, but there were some bright spots.
The Firebirds' No. 5 golfer, Jake Miller, led the team with an 83, and the No. 4 player, Parker Liebl, was second on the team with an 84.
The usually steady top trio of Seth McCauley, Dale Shillington and Jake Woodard shot 92, 87 and 96, respectively. No. 6 golfer Evan Schmidt fired a 93.
"We're basically just getting ready for regionals," Miller said. "We were looking at all the teams around us and how we compare with them. We need to hack off about 15 more strokes to even compete."
There is good news for the Firebirds, though. The regional, which takes place Monday, will be at Eagle Bend Golf Course - the very course on which Free State has most of its practices.
"They know where the pins are going to be," Gudenkauf said. "We've got everything already kind of set up, and I'm hoping we can shoot a little better than what we did today."
Copyright 2018 The Lawrence Journal-World. All rights reserved. This material may not be published, broadcast, rewritten or redistributed. We strive to uphold our values for every story published.