Photo Gallery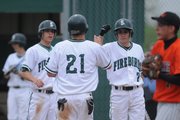 FSHS baseball vs. Shawnee Mission NW
Photo Gallery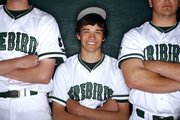 Masters of the Mound
Armed with yet another outstanding pitching staff, Free State High has its eyes on a run at another state title
Seven certainly seems to be Alex Hardman's lucky number. In baseball, anyway.
Hardman, a Free State High senior outfielder, clubbed the first home run of his prep career as the Firebirds tripped Shawnee Mission Northwest, 9-7, Tuesday night at FSHS field.
"I'll remember this one for sure," Hardman said, smiling.
Hardman's first prep-circuit blow, a high fly ball that cleared the left-field fence, occurred in the third inning.
During that decisive frame, the Firebirds scored seven runs, with the big blow - Hardman's two-run shot - coming from the No. 7 hitter in the batting order who also happens to wear No. 7 on the back of his uniform.
"I really like No. 7," Hardman said. "It's just that I can't bowl in the seventh frame."
Hardman is that rare combination of a bowler and a baseball player. As a Free State kegler, he earned all-state honors, but he still hasn't come up with a magic 300 game. Twice, he has rolled a 279, meaning he has rolled strikes in every frame except : you guessed it.
"The seventh frame gets me," he said.
Chances are Hardman will never hit another home run while wearing a Free State uniform. In fact, his baseball-playing days are dwindling. He'll attend Kansas University this fall, but will concentrate on making the club bowling team.
"What a neat kid he is," Free State coach Mike Hill said. "He's a dying breed, a multiple-sport kid. He isn't flashy, and he doesn't get the recognition other kids do, but he's very steady."
Hardman was one of 11 Firebirds recognized on Senior Night even though it wasn't Free State's last home game. An earlier rainout with Shawnee Mission West has been rescheduled for next Monday.
That SM West contest probably would not have been played if it didn't have a bearing on the Sunflower League championship. Free State is 9-0 in league play, while Olathe East has one loss. So if the Firebirds can defeat Lawrence High tonight and SM West on Monday, they will be the outright league champion.
Free State's overall record climbed to 14-2 even though the Firebirds' committed three errors, making three of the runs against Free State starter and winner Kelson Boyer unearned.
Despite the miscues, Hill wasn't displeased, saying: "It's high school baseball. You have ups and downs."
Free State slammed 15 hits - three each by Hardman, Cody Kukuk and Adam Rock - yet stranded eight runners. The Firebirds scored seven runs in the third and two in the fifth.
"When you have 15 hits, you should be able to score in more than two innings," Hill said. "But we found a way to overcome, and that's the mark of a good team."
Free State is also scheduled to meeting Lawrence High on Thursday night at Hoglund Ballpark, but that game won't count in league standings
It will, however, count in the Class 6A sub-state seedings that will be announced Saturday.
Copyright 2018 The Lawrence Journal-World. All rights reserved. This material may not be published, broadcast, rewritten or redistributed. We strive to uphold our values for every story published.