Audio Slideshow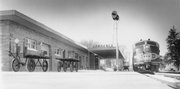 Santa Fe Depot
Warren Corman, one of two architects who designed the Burlington Northern Sante Fe Depot at Seventh and New York streets, talks about the depot's past and present.
-->
The train depot in east Lawrence still welcomes and sees off passengers, still accommodates railroad operations and still grabs attention with its mid-century modern architecture.
Now a fledgling group of residents wants to make sure that the depot owned by Burlington Northern Santa Fe Railway, 413 E. Seventh St., not only survives for another 50 years but also stays on track to handle a hoped-for resurgence in rail travel.
"Our goal is to maintain it as an active station," said Dennis Domer, co-chairman of Depot Redux, an organization formed to fight for the depot's renovation, restoration and enhancement as a passenger hub. "Not only do we like the transportation and the depot and the architecture, but we think this is the wave of the future. It's like 'Back to the Future.'
"Nobody has any money right now, and we're just starting out, but if there's going to be a rail system in the future, it'll be just like in the 19th century: Everybody wants to be on that line. And Lawrence is already on it."
The depot in Lawrence is one of 31 stops between Chicago and Los Angeles on the Southwest Chief, an Amtrak line with twice daily scheduled stops in Lawrence: 12:32 a.m. for passengers going west, and 5:49 a.m. for passengers headed east.
But Depot Redux hopes for more. They're working with the Northern Flyer Alliance to help push for a new train that would connect with the Heartland Flyer, which already runs from Dallas/Fort Worth to Oklahoma City. The Northern Flyer would extend north to Newton, then on to the north and east through Topeka, Lawrence and Kansas City, Mo.
The Kansas Department of Transportation is studying the feasibility of such service.
Working for the future
Lawrence's depot, which served 3,732 Amtrak passengers last year, could become an even bigger player in the years ahead as fuel prices escalate, environmental concerns mount and people become increasingly aware of the potential for rail as a convenient, cost-effective mode of transportation, said Carey Maynard-Moody, Depot Redux co-chairwoman.
But protecting and preserving an existing depot is a years-long process, Maynard-Moody said, and one that needs to start soon if Lawrence wants to be a player in extended rail service.
"If the Northern Flyer is going to come through - in, say, 2010 or 2011 - our depot needs to be ready," she said.
The depot itself, opened in 1956, is showing its age, said Domer, who knows a thing or two about such things. The historic preservationist and architecture educator helped with a community effort to preserve and restore the old Union Pacific Depot, now the Lawrence Visitor Center in North Lawrence.
The BNSF depot is worthy of placement on the National Register of Historic Places, he said, given its status as one of a small number of U.S. depots built in the modern style - one dominated by bold, overlapping rectangles and metal architectural details, virtually all of which remain in place today.
About the depot's only nod to the present day is its illumination. While fixtures hanging from the ceiling are original, the compact-fluorescent bulbs inside are new.
"You walk in there today, and it's like walking into the 1950s," Domer said.
Repairs sought
The building's flat roof is leaking, terrazzo floors are cracking and metal supports outside are rusting.
Domer figures it might take $200,000 or so to repair the roof and make other necessary upgrades. A full-scale renovation, rehabilitation and period-sensitive upgrades could push the project cost past $1 million.
Rich Wessler, director of passenger train operations for Burlington Northern Santa Fe, said that the railway would be an unlikely candidate to tackle such work alone.
"The depot, as it is now, is fine for our purposes," Wessler said. "We don't need much of a facility."
But BNSF would entertain the possibility of selling the depot to the city of Lawrence, provided that its own interests - space for communications equipment and room for switching crews - could be met, either on site or somewhere else nearby, Wessler said. And government money could come into play.
"We're certainly willing to consider legitimate offers," said Wessler, who emphasized that the railroad was not actively looking to sell. "The federal government is not interested in rehabbing a Burlington Northern Santa Fe facility, but they're very interested in rehabbing a city-owned facility."
Maynard-Moody and Domer say they have broached the subject with city officials, and are confident some arrangement with somebody - the city, a trust or a nearby property owner - could be worked out.
"We want to have the depot up and running and welcoming for passenger rail travelers," Maynard-Moody said. "How do we get there? We don't know. But we're very creative."
Copyright 2018 The Lawrence Journal-World. All rights reserved. This material may not be published, broadcast, rewritten or redistributed. We strive to uphold our values for every story published.