Ironman 70.3 Kansas
Photo Gallery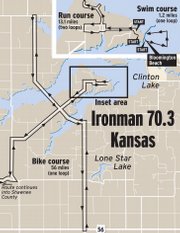 Ironman 70.3 Kansas
-->
Some of the world's most intense endurance athletes soon will be bringing their $400 wetsuits, $4,000 bikes and $161,000 incomes to Lawrence for a competition that already is commanding global attention.
Up to 1,500 athletes from 46 states and four countries are expected for the first Ironman 70.3 Kansas, where they will dive into a 1.2-mile swim, pedal through a 56-mile ride and endure a 13.1-mile run.
While the fastest competitors should finish within four hours, the Ironman's effects - financial, informational and inspirational - on the area will be expected to last far longer.
"It's bringing in 1,500 influential people from across the country," said Ryan Robinson, a triathlete and Douglas County sheriff's deputy who is organizing the event. "This is definitely a high-achiever sport, and those traits transcend over to the business world. When you're bringing those types of people to Lawrence, it's going to be a positive influence."
The event is the first of the iconic Ironman series to be conducted in Kansas, and will serve as a qualifier for the organization's world championships later this year in Florida. It also is identified as the national triathlon collegiate championships.
More than a race
Ironman 70.3 Kansas is set to begin at 6:45 a.m. June 15 at Clinton Lake, but the overarching event launches two days earlier and will encompass fitness, entertainment and other opportunities for public participation:
¢ The Ironman Sports Expo, beginning at 2 p.m. June 13 and continuing throughout the day June 14, will give athletes and officials a chance to interact with the public, including experienced and aspiring triathletes. Vendors and sponsors also will show off their products and services.
¢ An evening concert June 13. Three bands, including Poi Dog Pondering, will play on an outdoor stage in downtown Lawrence, in conjunction with the expo.
¢ Rock Chalk Run, with 5K and 10K races running north from downtown Lawrence, onto the Kansas River levee and back. As many as 600 runners and walkers are expected. The event benefits the Assists Foundation, an organization established by Bill Self, Kansas University men's basketball coach, and his wife, Cindy, to help fund a variety of youth-oriented initiatives.
The activities surrounding the main event - the half-Ironman itself - are being counted on to boost Lawrence's efforts for extending the three-year contract that starts this year.
With the hundreds of dedicated, focused and relatively high-income competitors ready to call Lawrence a temporary home, the goal is to make their stay as long and as beneficial to the community as possible, said Bob Sanner, sports director for the Lawrence Convention and Visitors Bureau.
"A race venue is a race venue is a race venue," Sanner said. "What will separate Lawrence is what happens Friday and Saturday. That's what makes the difference."
'A perfect fit'
Competitors in Ironman events - whether it's through 70.3 events, like the one set for Lawrence, or through full-length competitions - make an average income of $161,000, according to Ironman officials. Seven out of 10 are male, and 95 percent line up with post-secondary educations.
And they will be expected to spend money, whether it's for three or four nights in hotel rooms, last-minute supplies and equipment, or other retail and services while in town. Officials in Madison, Wis., say that the full Ironman conducted there generates an economic impact of at least $2 million.
"It's a perfect fit," Sanner said.
Lawrence has the event locked up for the next three years, and Ironman officials are looking forward to a long and fruitful relationship for all involved.
Steve Meckfessel, Ironman 70.3 series director, said that Lawrence could expect to reap more than simple monetary rewards from the event. There's also the matter of international exposure that the competition will bring.
"This is part of a global series of races," said Meckfessel, who became familiar with Lawrence while he was a student at the University of Missouri and served as a student manager for Norm Stewart's basketball team in the late 1980s.
"This puts Lawrence on par, literally, with events in Cancun, or Monaco, or Singapore. We're in Australia ... so it really enhances the profile or, in some cases, just underscores the community as a great destination."
Copyright 2018 The Lawrence Journal-World. All rights reserved. This material may not be published, broadcast, rewritten or redistributed. We strive to uphold our values for every story published.