On the street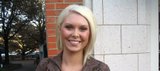 Probably running. It's been awhile, but I used to be pretty good at long distance running.
This summer, iron may equal gold for the Lawrence economy.
About 2,000 athletes are expected to descend in mid-June upon Clinton Lake for a national Ironman triathlon competition that is expected to pump $2 million to $3 million into the local economy.
The event cleared its biggest hurdle Monday by winning approval to use county roads for part of the 70.3-mile course.
"I think this could be a very high-profile event that could be very good for the community," Douglas County Commissioner Bob Johnson said.
Most of the race - dubbed the Ironman 70.3 Kansas - will take place at Clinton Lake's Bloomington Park, toward the western end of the lake. But much of the 56-mile bicycle course will be on county roads near Bloomington. The roads - which will be closed for several hours during the June 15 event - include East 550 Road; North 851 Diagonal Road; and parts of County Roads 1023 and 458 leading into Stull.
The swimming course (1.2 miles long) and the running course (13.1 miles) will be on U.S. Army Corps of Engineers property at Bloomington Park. Lew Ruona, project manager for the Corps of Engineers at Clinton Lake, said the Corps is close to giving final approval for the event.
Ryan Robinson - president of the company organizing the event, Lawrence-based Sherpa Sports - said the average annual salary for an Ironman participant is $140,000.
"Just think what these people will do with their credit cards on Massachusetts Street," Robinson wrote in a letter to commissioners.
The Lawrence event would serve as a qualifier for the Ironman 70.3 World Championships. The Lawrence event also would serve as the National Collegiate Ironman Championship.
Currently, only 11 U.S. events are sanctioned by the Ironman organization in the 70.3 category, which refers to the number of miles in the race. The Ironman organization also sanctions the more traditional Ironman triathlon of 140.6 miles.
Copyright 2018 The Lawrence Journal-World. All rights reserved. This material may not be published, broadcast, rewritten or redistributed. We strive to uphold our values for every story published.