Miss Haskell and Haskell Brave Competitions
Photo Gallery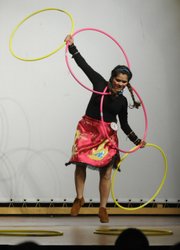 Haskell events
On the street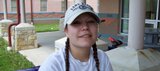 She should know about the culture and history of the Native Americans and also be well informed about the current issues.
Graduation events
Haskell Indian Nations University will have its Spring 2008 Commencement at 10 a.m. Friday in Haskell Memorial Stadium.
The Haskell Spring Commencement Powwow will be Friday and Saturday at the Haskell Powwow Grounds.
On Friday, gourd dancing begins at 5 p.m. Grand entry of dancers will take place at 7 p.m. The new Miss Haskell and Haskell Brave will be introduced during the powwow.
On Saturday, grand entry of dancers will be at 1 p.m. and 7 p.m. Gourd dancing begins at 3 p.m.
General admission for each day is $2.
Becoming the next Miss Haskell is no easy task.
Tila Salas-Brooks, of Portland, Ore., has been campaigning, dancing, singing, studying Haskell Indian Nations University history, cooking native foods and giving interviews - all in hopes of earning the coveted title at Friday's Commencement Powwow.
"I thought it would be really fun to do something where I could influence the community and show people that I have a lot of talent and a lot to give back," said Salas-Brooks, a freshman in vocal performance.
To become Miss Haskell or Haskell Brave, a student must be in good social and academic standings. Then, they are judged in five categories, each weighing a different percentage. They are: essay question, 10 percent; modern and traditional talent, 40 percent; public speaking, 20 percent; private interview, 20 percent; and popular vote by students, faculty and alumni, 10 percent.
The weeklong competition isn't something that is taken lightly at the university with about 1,000 students.
"This is a yearlong commitment to being a spokesperson and being an honorable ambassador for all of the tribes that are represented at Haskell, so the candidate not only has to be knowledgeable about the tribes that they represent, but also about the school and the school's history, and current issues," said Lori Tapahonso, a former Miss Haskell and spokeswoman for the university.
Miss Haskell and Haskell Brave attend conferences, powwows and other events across the country. They are asked to lead prayers and give speeches, sometimes with only a day's notice.
Twila White Bull, current Miss Haskell, described Haskell as her baby.
"It took up a lot of my time," she said.
But she's glad to have worn the crown. White Bull said it allowed her to meet a lot of inspirational people. She also was honored to represent the university and her Standing Rock Sioux Tribe.
So, what's her advice for the next Miss Haskell?
"To have fun and to be a positive role model for not only Haskell, but for her tribe and the younger generation."
Salas-Brooks hopes to get that chance and has spent the past three weeks campaigning by hanging posters, putting lollipops in mailboxes and scribbling on sidewalks. There were even Team Tila T-shirts.
During the past week, she competed in the five categories against Cameo McKinley, a freshman in liberal arts from Ganado, Ariz. They also participated in campus events such as a student senate meeting and powwow.
They were hoping to win over votes from students such as Deborah Kirk, a sophomore in environmental science, who attended the powwow where the contestants were judged on public speaking.
Kirk and several other students said they were basing their votes on how well the candidates knew Haskell's tradition and cultural values.
"Oh, it's so stressful and it's so fun at the same time," Salas-Brooks said last week.
Salas-Brooks said the toughest part was the talent portion. She sang a cappella before about 70 people in Haskell Auditorium. She dedicated the song "Thank You" to her father who died of leukemia when she was 10 and to a close friend who recently was murdered on an Indian reservation. Then, she performed a hoop dance - something she usually does with 15 hula hoops.
"I haven't done a hoop dance in a long time so I cut it back down to eight, so I wouldn't throw hoops into the audience as party favors and stuff," Salas-Brooks said, laughing.
Now, the competition is over and she won't find out until Friday night if she will be the next Miss Haskell, a position that's been around since 1934. It was called Campus Queen until 1970.
"It's ridiculous. They are evil," she said jokingly about the wait.
Becoming the next Haskell Brave hasn't been nearly as stressful for Orlando Begay, a junior in American Indian Studies from Monument Valley, Utah. He ran for the position unopposed.
"I am having a good time and enjoying the attention," he said, laughing.
In 1937, the prestigious titles drew eight candidates each. Nowadays, they draw just a few candidates. Tapahonso said Haskell hasn't had a problem drawing top-notch students to represent the college.
"I am always so impressed with how well-spoken our candidates are. They all come to the competition with leadership qualities to begin with," Tapahonso said.
Copyright 2018 The Lawrence Journal-World. All rights reserved. This material may not be published, broadcast, rewritten or redistributed. We strive to uphold our values for every story published.