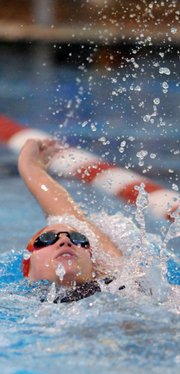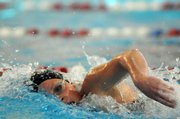 The task at hand was chlorine-clear.
After two days, 21 races and more than seven hours of swimming, second place in the team standings at Saturday's Sunflower League meet came down to the final race of the event.
With Free State High trailing Olathe Northwest by six points - and the two schools' 400-yard freestyle relay seed times separated by .04 seconds - FSHS coach Annette McDonald delivered the pep talk of the season.
"It was nice to know that fact," McDonald said. "I just told them where they stood and that they should just go out and have fun. When we talk about relays, we don't talk about don'ts, we talk about do's."
The Firebirds did.
Freshmen Reilly Moore and Chloe Portela joined sophomore Morgan Flannigan and junior Molly Albrecht in dusting Olathe Northwest by more than two seconds in the final race to pull into a second-place tie with the Ravens.
"I was out-touched (by Olathe Northwest in the prelims), so I really wanted to get it back today," said Flannigan, who swam the anchor leg. "Relays are worth double points, and we all really wanted to get first for the team because the team result is what stands in the end."
Big words considering Flannigan (200 free), Portela (100 butterfly) and Albrecht (100 backstroke and 500 free) had combined to win four individual league championships before the relay.
The five league titles and second-place team finish highlighted the day for Free State, which also saw senior diver Brittanie Williams turn in a state-qualifying score of 286.3 points while finishing seventh in the finals.
"It's crazy. Every year I've wanted to make it, but something out of the blue happened so I couldn't," Williams said. "This year, I started below where I normally have and pulled myself up."
Of all the day's events, the highlight for the two city teams combined was the 500 freestyle. Free State and Lawrence High claimed seven of that race's top nine spots. Albrecht won the event, and Flannigan finished second. Lawrence's Erina Houk (fifth), Jessica Boyer (eighth) and Hannah Buchner (ninth) joined Free State's Kayla Hedges (sixth) and Adrianne Black (seventh) to saturate the standings with Lawrence girls.
While the Firebirds were busy battling for second - SM East won the meet for the fourth straight season - Lawrence High was in a dogfight for fifth.
LHS diver Mallory West delivered the Lions' top finish of the day, as she twisted and tucked her way to a memorable final dive that gave her a total score of 393.9, good for second place.
"I love doing hard dives, and that last one is my hardest one," said West of the dive that was saddled with a 2.6 degree of difficulty. "I nailed it the best I've done all season, and I was really proud of that."
Sophomore Elle Weber (fourth in the 200 individual medley and fifth in the 100 breaststroke) and freshman Sarah Schwartz (third in the 100 backstroke) turned in the Lions' other top performances, which left LHS coach Kent McDonald thrilled about his team's sixth-place showing.
"All in all, almost everyone swam their best times. You can't argue with that," he said. "I think this got the girls excited again. They're looking forward to state, and they told me to work them hard next week."
Next up for both squads is the state meet May 16-17 in Topeka.
Copyright 2018 The Lawrence Journal-World. All rights reserved. This material may not be published, broadcast, rewritten or redistributed. We strive to uphold our values for every story published.