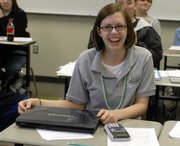 Mayor's Excellence in Education Award
Mayor Sue Hack made some surprise visits at Lawrence's high schools Friday.
As a result, Derek Huff, at Lawrence High, and Justine Ahle, at Free State, were shocked to see a prize patrol give them the Mayor's Excellence in Education Awards.
"I had no idea," said Huff after LHS Principal Steve Nilhas and Hack entered a computer classroom.
An hour later, Ahle watched as Hack and Free State Associate Principal Ted Berard brought her class to a halt.
"I really was like, 'What is going on? What is happening here?'" Ahle said.
Since 2003, the mayoral education awards have recognized educators. But Hack, a former Lawrence teacher, said the city wanted to recognize students this year.
Huff earned the award for his accomplishments in technology. He has been instrumental in writing, editing and recording podcasts that LHS students produce, called Room 125, said media teacher Jeff Kuhr, who nominated Huff.
Kuhr and several family members, including Huff's parents, Darrell and Debbie, greeted him in class.
"We know that we're going to be seeing you and Steve Jobs and all of those names in lights," Hack said.
Huff, who plans to study broadcast journalism in college, said he was proud of the podcast this year.
"It's really fulfilled the purpose of radio in the first place, which is to give a voice to people who normally wouldn't have a voice," he said.
Ahle received her award for student leadership. She has served as Free State's National Honor Society vice president, student director of the Chamber Choir and Spanish Club secretary.
"I am overwhelmed by what you do, young lady," Hack said.
Ahle, the daughter of Neil Ahle and Kathryn Cook, said she plans to study pharmacy after graduation, but she's still deciding on which college. She also volunteered to help raise money for the Lawrence Memorial Hospital capital campaign.
"It's really a great honor to be able to give back to this community that's done so much for me," she said.
Mike Zheng, president of Microtech Computers Inc., also presented Huff and Ahle with a Toshiba laptop computer.
Copyright 2018 The Lawrence Journal-World. All rights reserved. This material may not be published, broadcast, rewritten or redistributed. We strive to uphold our values for every story published.