2008 NCAA Tournament
Photo Gallery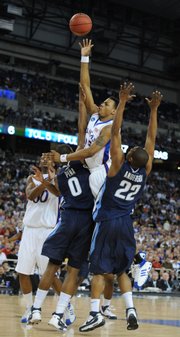 KU vs. Villanova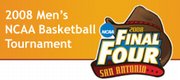 Get your March Madness fix at KUSports.com.
Detroit — Another opponent picked off. Now, it's time to take aim at Cinderella.
Kansas University's basketball team beat 12th-seeded Villanova, 72-57, at Ford Field on Friday, overwhelming the Wildcats out of the gate and cruising into the Elite Eight with an easy victory in the NCAA Tournament's third round.
Top-seeded Kansas (34-3) now will play at 4:05 p.m. CST on Sunday against 10th-seeded Davidson - also the Wildcats - a tiny school in North Carolina that's become the feel-good story of March. Davidson (29-6) beat third-seeded Wisconsin, 73-56, earlier Friday for its 25th straight victory.
From a seeding standpoint, the Midwest region certainly has opened up in favorable fashion for the Jayhawks. If Kansas gets to the Final Four with a victory Sunday, it will do so by beating teams seeded 16th, 8th, 12th and 10th in the Midwest region.
That's because all the big dogs in the Midwest have been knocked off - except the Jayhawks. They again looked businesslike in beating Villanova, paced by Brandon Rush's 16 points and Russell Robinson's 15. Mario Chalmers added 14 points.
So ho-hum was the win, in fact, that many of the 57,028 fans at massive Ford Field didn't stick around to see the conclusion. It nearly was decided at halftime when KU led 41-22.
The Jayhawks led by more than 20 before the Wildcats clawed back late.
But the rally was in vain. And Kansas moved one step closer - and one step away - from its first Final Four since 2003.
Copyright 2018 The Lawrence Journal-World. All rights reserved. This material may not be published, broadcast, rewritten or redistributed. We strive to uphold our values for every story published.