2008 NCAA Tournament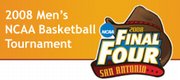 Get your March Madness fix at KUSports.com.
Detroit — The crystal ball has no answers when it comes to the NCAA Tournament. It's no different from the rest of us. We're all guessing. After all, who knows more about college basketball than recently retired coach Bob Knight? He picked Pittsburgh to win it all, and the Panthers didn't make it out of the first weekend.
Next time you hear someone start a sentence with "In order to win the NCAA Tournament, a team needs to ... " hit the mute button. Or walk away.
That sentence used to be finished "have a dominant, go-to scorer."
Florida debunked that theory by winning the past two national titles. Taurean Green led the Gators in scoring last season with 17 percent of the team's points. The year before that, Joakim Noah led the Gators with 18 percent of their points. The year before that, Sean May led North Carolina to the national title scoring 20 percent of its points. In 2004, UConn guard Ben Gordon did 24 percent of the Huskies' scoring. Carmelo Anthony was responsible for 28 percent of Syracuse's offensive output. In 2002, Juan Dixon had 24 percent of Maryland's points.
Kansas could cut down the nets in San Antonio. Leading scorer Darrell Arthur has done 16 percent of the Jayhawks' scoring. Davidson has won 24 in a row. Extending the streak four more games is neither likely nor impossible. Sophomore Stephen Curry, who has scored 55 second-half points in two tournament games, has done 33 percent of Davidson's scoring.
The nice thing about scoring balance is that teams can survive when a key player has an off night. The nice thing about having a dominant scorer is that indecisiveness doesn't creep in on a make-or-break play.
One player is considered the most clutch scorer on the Jayhawks, as was reiterated by KU senior Jeremy Case when he and Matt Kleinmann were watching a down-to-the-wire tourney game in the locker room last week in Omaha.
Kleinmann to Case: "All right, coach Case, what you gonna do here?"
Case: "I give the ball to Mario Chalmers and tell him to go get me a score."
Earlier in the game, KU doesn't have to hesitate. The goal always is to get the ball to Arthur.
"We're pretty much a balanced team, but we're always trying to play inside-out," Arthur said. "We've got eight starters. Anybody can get hot any day, and whoever is hot is who we try to keep going to."
It's a versatile roster packed with players who can score in multiple ways. When Arthur looks under the hood of his offensive game, here's what he sees: "I can play inside and out. I like to face up a lot. I like my turnaround game, my jumper, and I like my left-shoulder hook shot."
Those methods of scoring don't work when Arthur's on the bench, nursing foul trouble.
"When I think about fouls," Arthur said, "that's when I usually get a foul. I keep my mind on playing with my head and my feet and sliding. I think I'm doing a better job of it."
If Arthur (nine personals in past four games) can stay out of foul trouble at Ford Field, the guess here is KU will advance to the Final Four, but it's just a guess.
Copyright 2018 The Lawrence Journal-World. All rights reserved. This material may not be published, broadcast, rewritten or redistributed. We strive to uphold our values for every story published.