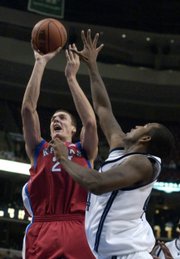 2008 NCAA Tournament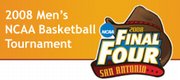 Get your March Madness fix at KUSports.com.
Detroit — There's no way Kansas University's top-seeded basketball team will overlook No. 12 Villanova in an NCAA Midwest Regional Sweet 16 contest on Friday night at Ford Field.
So says KU senior Sasha Kaun, who plans to remind the squad's underclassmen what happened the last time the two storied programs met on the hardwood.
"I remember being very frustrated. I remember it being a bad day. I remember it being a bad weekend," Kaun, Kansas University's 6-foot-11 senior center from Tomsk, Russia, said, recalling the Jayhawks' 83-62 loss to the Wildcats on Saturday, Jan. 22, 2005, at Wachovia Center in Philadelphia.
The loss -KU entered 14-0 and ranked No. 1; Nova 9-4 and unrecognized - remains the second-worst setback in the Bill Self era, trailing only a 25-point rout at Texas in the 2005-06 season.
"They did such a good job beating us off the bounce, beating us in every way," Kaun said of the game played his freshman year.
The Jayhawks trailed by as many as 32 points with 7:48 remaining, before playing for pride and pride alone down the stretch.
"It was a guard's game; it was a post game. I think it would be easier to put it, it was 'their game,'" KU coach Bill Self said.
The Jayhawks committed 22 turnovers and were victimized by 12 Villanova three-pointers in 19 tries. Allen Ray and Curtis Sumpter led the way with 27 and 25 points, respectively, for the Wildcats, who have nobody on their current roster who was in the arena that day.
Of KU's current seniors, Kaun led the way with 11 points and five boards in 18 minutes. Russell Robinson had an assist and two turnovers in five minutes, and Darnell Jackson three points and two steals in 12 minutes. Wayne Simien finished with a team-leading 15 points, while J.R. Giddens joined Kaun with 11 for KU.
"They outplayed us in every facet of the game," Self said. "They were quicker to the ball, more athletic, better passers, better ballhandlers and shooters."
He's not dwelling about that game.
"I still get nervous twitches when I think about it, so we haven't brought it up yet," he joked. "Trust me, they remember. But Russell, Sasha, Jeremy and Darnell were the only ones here then. Scottie Reynolds and Mario Chalmers didn't have much to do with that game, but they will this game."
It wasn't just the game that made it the worst regular-season road trip of Kaun's KU career.
A blizzard dropped more than a foot of snow on Philadelphia, canceling KU's charter flight home Saturday night after the game.
"I remember getting snowed in. Having a bad game and having to stay in the hotel an extra day made it worse. It made it tough," Kaun said.
"We had to go back to the hotel and watch film. Coach Self did the breakdown of the game the same day. He was still fired up from the game. It was definitely a bad day."
The following day was even worse.
The Jayhawks arrived at the Philadelphia airport at 7 a.m., hoping to return to Lawrence to lick their wounds after their first loss of the season. Instead, the players and coaches sat in their seats on the runway 4 1/2 hours and needed nine total hours of travel time to return to campus.
"It was snowing sideways. You couldn't see a foot in front of you," former KU assistant Tim Jankovich, first-year head coach at Illinois State, said.
"The great part of the whole trip is we always have a bus waiting in Topeka. It turned out our driver had torn his pants at some point and called somebody to meet him to bring him pants. We've got to sit on the bus while somebody brought him pants. That's another good 15 minutes. It was our lovely couple days."
Friday will give Kaun and his senior pals a shot at redemption against 'Nova. Tip will be 8:40 p.m. at Ford Field.
A victory would push the Jayhawks into Sunday's Elite Eight game against either Davidson or Wisconsin.
"They are from the Big East. It is a tough, tough conference," Kaun said. They were kind of unfortunate to lose five games in a row early in the season (to Rutgers, Notre Dame, Pitt, Syracuse and St. Joe's). It made the committee put them so low in the tournament.
"They are not a 12-seed. You watch them play, they are so much better than so many teams. They are one of the best teams we've faced all year."
The Scottie Reynolds-led Wildcats have won five of their last six games.
"Our guys know they are not a 12-seed," Self said. "If we do not play well, it will not be because our guys do not respect Villanova. They know what they are up against."
Especially the seniors.
Especially after what happened in '05.
Copyright 2018 The Lawrence Journal-World. All rights reserved. This material may not be published, broadcast, rewritten or redistributed. We strive to uphold our values for every story published.