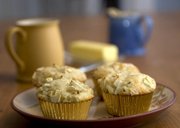 Take a hint from the French and perk up your morning fare with the incomparable flavors of fresh herbs.
With just a few snips of your kitchen scissors, you'll transform your favorite egg, potato or quick bread.
"Fresh herbs expand everything," explains David Barry, an instructor at the Culinary Institute of America who teaches breakfast cuisine.
"You can take something as basic as eggs and completely change how the aromas are going to taste," he says. "We turn to herbs a lot for our scrambles."
Adding herbs to a recipe can make it healthier, as well as tastier. The additional flavors reduce the need for salt, says Georgeanne Brennan, who wrote the cookbook "Brunch" and runs a cooking school in France.
Here's what you need to know to experiment with herbs at breakfast.
Eggs
¢ French scramble: Round out a simple scrambled egg with chervil, parsley, tarragon and chives.
¢ Mediterranean scramble: Combine diced tomato, avocado and feta with fresh cilantro.
¢ Tex-Mex scramble: Combine salsa, jalapenos, poblanos, broken corn chips, cheddar or jack cheese, and fresh cilantro.
¢ Provencal omelet: Fill your omelet with ratatouille (fresh tomatoes, eggplant and zucchini) as well as onion, garlic, fresh basil and a sprinkle of dried herbs de Provence.
Potatoes
"Potatoes are such a great canvas," says Cheryl Jamison, co-author of "A Real American Breakfast." "Chives come immediately to mind. I don't think there's a greater thing a chive can be than with a potato in any form."
Use similar ratios of herbs per three potatoes as listed above for eggs.
¢ Spiked hash browns: Snip fresh parsley and sage into a hash brown mix before frying.
¢ Herbed home fries: Fold fresh lovage, thyme, parsley, summer savory, rosemary and/or chives into home fries during the final 5 to 10 minutes of cooking.
¢ Rubbed baby potatoes: Roast olive-rubbed baby red potatoes with sage sprigs.
¢ Thyme scalloped potatoes: Fresh thyme and minced shallots complement creamy, eggy scalloped potatoes. Rosemary or sage also could be used.
¢ Rosemary potato pancakes: Combine rosemary, butter, cheese and mashed or grated russet potatoes. Flatten and fry on each side. Or try a similar technique with dill.
Breads
Herbs can transform a basic quick bread recipe to savory or sweet depending on your ingredient combinations.
Per dozen muffins, scones, biscuits or rolls, add two to three tablespoons of delicate herbs such as chervil, parsley or chives.
Use slightly less - about a tablespoon - for stronger herbs, such as sage, rosemary and lavender. Add them to the dry ingredients to keep them well distributed.
¢ Cheddar thyme muffins: Cheddar and fresh thyme blend nicely in a savory muffin or biscuit.
¢ Sage biscuits: Sage's strong flavor mellows nicely with goat cheese for biscuits or scones.
¢ Sweet rolls: Add cinnamon, nutmeg and cardamom with some extra sugar to rolls or biscuits.
¢ Basil scone: Experiment with different types of basils, including traditional, lemon and Thai.
¢ Harvest scone: Add currents, caraway seeds and thyme to create a savory sweet scone. Or use the same blend in a muffin.
¢ Provencal scone: Add a teaspoon of fresh or dry lavender flowers to a basic scone recipe.
Recipes
Apple lavender muffins
1 1/2 cups all-purpose flour
1/2 cup sugar
2 teaspoons baking powder
1/2 teaspoon salt
1/2 cup milk
1 tablespoon lavender flowers
1/2 cup butter, melted and cooled
1 large egg, beaten
1 cup peeled and diced apple, divided
Preheat oven to 375 degrees. Coat 12 muffins tins with cooking spray or line them with muffin cups. In a large bowl, sift together the flour, sugar, baking powder and salt. Make a well in the center. In a separate bowl, whisk together the milk, lavender, butter and egg. Add the milk mixture to the flour mixture and stir by hand just until the batter is evenly moistened. Fold in 1/2 cup of the apples.
Fill the prepared muffin tins about three-quarters full. Gently tap the filled tins to release any air bubbles. Sprinkle the remaining diced apple over the muffins. Bake until a skewer inserted into the center of a muffin comes out clean, 25 to 30 minutes. Cool the muffins in the pan for about 10 minutes, then transfer to a cooling rack. Serves 12.
- Recipe from David Barry, an instructor at the Culinary Institute of America
Bacon with brown sugar and cardamom
2 pounds thick-sliced lean bacon
3/4 cup firmly packed brown sugar
1/2 teaspoon ground cardamom
1/2 teaspoon freshly ground pepper
Position a rack in the upper third of the oven and another rack in the lowest third. Preheat to 350 degrees. Line the bottom and sides of two rimmed baking sheets with foil.
Put the bacon slices in a single layer on the baking sheet.
In a small bowl, toss together the brown sugar, cardamom and pepper. Sprinkle the mixture evenly over the bacon.
Place one pan on the upper rack and the other pan on the lower rack. Bake, without turning, for 25 minutes.
Switch the position of the pans, top to bottom and front to back. Continue to bake until dark brown but not quite crisp, 10 to 15 minutes longer.
Using tongs, lift the bacon from the pans, gently shaking off excess drippings. Transfer to paper towels to drain briefly. Serve at once. Serves 10-12.
- Recipe adapted from "Williams-Sonoma Breakfast & Brunch"
Copyright 2018 The Associated Press. All rights reserved. This material may not be published, broadcast, rewritten or redistributed. We strive to uphold our values for every story published.