2008 NCAA Tournament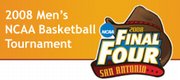 Get your March Madness fix at KUSports.com.
Tickets still remain for the NCAA Tournament Midwest Regional at Ford Field in Detroit, a venue that will play host to three games this weekend.
Of course, it would take a city the size of Lawrence to sell the place out.
Ford Field is a guinea pig for the new way to maximize seats (and as a result, revenue) at big-stage NCAA Tournament games moving forward. Detroit's giant domed stadium - as well as Reliant Stadium in Houston - will have the basketball court placed in the middle of the football field and have temporary seats extend out to the court.
Capacity will be 72,818 seats this weekend. The Ford Field ticket office said Monday that about 55,000 tickets had been sold for this weekend's games so far. The trio of games includes Kansas University's Sweet 16 showdown against Villanova at 8:40 p.m. Friday.
Playing NCAA Tournament games in football domes is nothing new. But in the past, the basketball court usually has been squeezed into a corner of the football field, and a large chunk of seats had remained vacant and even curtained off on the other side of the venue.
Now, plenty of seats will be available.
"This is the first time this has ever been done," Bob Gardner, Ford Field's director of facility management, told the Associated Press.
It sounds nice, but keep in mind that many seats in the upper deck will be frighteningly far away from the action. The cost for the nosebleeds is $45 for all three games.
"We are definitely telling our fans that if they buy seats that are not in the KU contingent, that they're taking the chance that they are far away," associate athletic director Jim Marchiony said.
The KU contingent is only 1,250 seats and is sold out. Marchiony said those seats will be close to the court.
Ford Field is going forward with the new configuration because it's the site of the 2009 Final Four and the 2010 Frozen Four hockey tournament. The NCAA's plan is to have all Final Fours - including 2010 (Indianapolis) and 2011 (Houston) - played in similar setups to maximize ticket sales.
NCAA officials estimate the increased seating capacity will generate $4 million in additional revenue.
Being innovative often means the chance to be historical. Ford Field's seating capacity puts NCAA Tournament attendance records within reach.
The record for a regional game is 42,519, which figures to be broken in Detroit. The record for any NCAA Tournament game was the 1987 championship game between Indiana and Syracuse, which drew 64,959 fans to the Superdome in New Orleans.
KU's single-game record is 64,151, set against North Carolina in the 1993 Final Four.
The record for any college basketball game, though, was set at Ford Field in 2003 in a regular-season game between Michigan State and Kentucky. That game drew 78,129 fans in a similar, though less sophisticated, setup.
This weekend's game will be played on a court 27 inches above ground, a subtle way to make it a stage-like setup and create better sight lines.
The new approach toward Final Four seating continues the evolving of one of the nation's most popular sporting events. The Final Four has been in domed stadiums since 1997. In 2003, the Division I Men's Basketball Committee set a minimum seating capacity for Final Four venues at 40,000.
Of course, KU's players face some challenges in adjusting to playing in the huge venue.
"We're excited to go," KU coach Bill Self said. "Somebody told me they were going to try to put 65,000 to 70,000 people in there which will be a unique, unique deal for anybody which I don't know I'm a fan of going in.
"I think most shooters like shooting in the confines of a smaller background of a tighter background," Self added, noting it's same for all four teams playing in the Motor City this weekend. "We will have a chance to shoot in there the day of the game and day before. I'm more concerned about Villanova than the dome."
Copyright 2018 The Lawrence Journal-World. All rights reserved. This material may not be published, broadcast, rewritten or redistributed. We strive to uphold our values for every story published.