2008 NCAA Tournament
Photo Gallery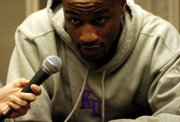 KU vs. UNLV press conference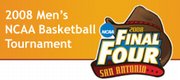 Get your March Madness fix at KUSports.com.
Kansas connection
Most of UNLV's coaching staff - including head coach Lon Kruger - is comprised of native Kansans. Kruger (Silver Lake) hired a staff consisting of Greg Grensing (Council Grove) and Steve Henson (McPherson). UNLV's director of basketball operations, Mike Shepherd, is from Burlingame.
Kruger and Henson particularly are well known to longtime Kansas University fans. Kruger played at Kansas State and coached the Wildcats from 1986-90, and Henson was the point guard on K-State's 1988 Elite Eight team.
"The atmosphere was always terrific, just as you would expect a rivalry to be," Kruger said. "As a coach, we won a few times, but not too many."
Kruger was asked about the 1988 NCAA Tournament game between KU and KSU, which was won by the Jayhawks, 71-58, in Detroit. Kansas went on to win the national championship.
"Seemed K-State had control most of the way. We couldn't quite get over the hump," Kruger said. "But again, Kansas did a great job and went on to the championship."
Kruger went on to coach at Florida, Illinois and in the NBA before going to UNLV. Still, he said running into Kansas again brings out "a little bit" of old emotions.
"As a Wildcat, you never want them to win," Kruger said of KU. ": You've got those feelings forever once you're one side or the other, I think."
Climbing to the top
UNLV's starting lineup today will include two players who originally were walk-ons.
Curtis Terry and Rene Rougeau both showed up without a scholarship and earned their minutes through the years. They are now key parts to UNLV's 27-7 team.
Terry, the half-brother of NBA standout Jason Terry, averages 11.1 points and 5.0 assists per game as a 6-foot-5 combo guard. Rougeau, a 6-6 guard, averages 9.1 points and 6.2 rebounds per contest.
"It shows that hard work does pay off," Terry said, "and if you want something bad enough, you can get it."
Amazing stat
UNLV holds the NCAA record for most consecutive games with a made three-pointer. That mark is now 702 straight contests with at least one trey.
The streak started in 1986, when the three-point line was introduced. For comparison's sake, KU's current three-point streak is at 11 games, after it went trey-less in a victory over Baylor.
Another Kansan
Besides almost the entire coaching staff, UNLV has one player from the state of Kansas - Hays native Scott Hoffman, a walk-on.
Hoffman was chatting constantly on his cell phone after the Rebels' victory over Kent State on Thursday and said he and his family had been eyeing a UNLV-Kansas showdown since the bracket was announced. He'll have close to a dozen family members on hand today.
Oh yeah, one other thing - all of his relatives are Kansas State fans. Hoffman, in fact, got in touch with UNLV because Kruger played college baseball at K-State with Hoffman's father, Don.
Copyright 2018 The Lawrence Journal-World. All rights reserved. This material may not be published, broadcast, rewritten or redistributed. We strive to uphold our values for every story published.