2008 NCAA Tournament
Photo Gallery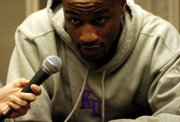 KU vs. UNLV press conference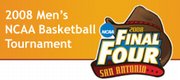 Get your March Madness fix at KUSports.com.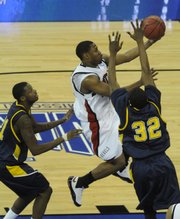 Omaha, Neb. — He started as Winky Adams, before deciding he was too old for such a child-like moniker.
So it soon became Wink, which honestly isn't THAT much better. But that's OK - Wink will channel surf and catch himself stopping when cartoons are on the television. So Winky always will be inside, even if Wink is (sort of) the more mature representation on the surface.
Jo'Van "Wink" Adams now is the Roadrunner to Kansas University's Wile E. Coyote, a dynamic, slashing, attacking 6-foot point guard for Nevada-Las Vegas' basketball team. He will lead the eighth-seeded Runnin' Rebels into today's 5:50 p.m. matchup in the second round of the NCAA Tournament at the Qwest Center looking to pull off March's biggest upset so far.
"He's obviously our best player. Simple as that," UNLV senior Curtis Terry said. "He does everything for us. He's our best on-ball defender, he's our best driver, he's our best scorer. He has the most confidence in himself, and he has the most confidence in his teammates."
Adams doesn't know exactly why he was called Winky as a small child, saying it's just something his mother (now known as "Mama Wink") bestowed upon him from when he was a toddler.
It quickly stuck, and few people even know his real name anymore. It's Wink to everybody - except mom, who still uses Winky.
"I tell her to just say Wink," Adams said. "She won't do it."
Adams averages 16.6 points and 4.0 rebounds per game for the 27-7 Rebels, not surprising considering he was one of Rivals.com's top prospects coming out of Houston's Gulf Shores Academy in 2005.
He had offers from Florida, Connecticut, Arkansas and Oklahoma. But when he was 5-year-old Winky watching television in Houston, he fell in love with the great UNLV teams of the early 1990s - specifically the 1990 national champions and the '91 team that entered the Final Four 34-0 before losing to Duke.
That kind of success is only a memory at UNLV now. But it didn't deter Adams from wanting to live in those shadows.
"Larry Johnson, Stacey Augmon : when they won the championship, that was the school I wanted to go to," Adams said. "They started recruiting me kind of late. When I got my first letter, I knew I had to take a visit."
Adams is now giving UNLV fans a taste of the success they fell in love with 18 years ago. He leads the team with 66 three-pointers, and his 85 percent free-throw rate is huge because Adams attacks the lane often and draws plenty of contact doing so.
"Some of the guys he goes up against are a lot bigger than him," said Joe Darger, a 6-7 forward who's often challenged by Adams in practice. "He uses his body extremely well to get into the big guys and put the layups up there and draw fouls and hits big-time shots. We kind of expect it out of Wink now."
Said Adams: "You can't be afraid to go in with the trees. When you see an opportunity to go to the rim, you've got to take it."
Adams is the lone returning starter from last year's Sweet 16 team, which makes this year's squad even more impressive. He had 17 points, six rebounds and four assists in UNLV's 71-58 victory over Kent State on Thursday in the first round.
It was another big victory in the NCAA Tournament for the Runnin' Rebels. Adams is the most visible link between UNLV's success last year and its 27 victories this year. Teammates say that's no coincidence.
"He's a great person," Terry said. "He's kind of quiet and relaxed and reserved. But he's definitely a competitor. A fierce competitor."
Copyright 2018 The Lawrence Journal-World. All rights reserved. This material may not be published, broadcast, rewritten or redistributed. We strive to uphold our values for every story published.