2008 NCAA Tournament
Photo Gallery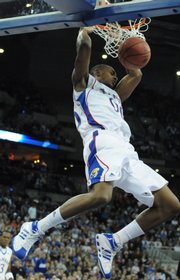 KU vs. Portland St.
Omaha, Neb. — With such inferior ability, Portland State's basketball players had to focus on one of Kansas University's deadly fists and hope the other one didn't kill them.
Admirable. But the Vikings are dead anyway.
The Jayhawks hit 12 three-pointers in their 85-61 victory over the Vikings, taking advantage of what Portland State gave them while the Vikings sagged to try to neutralize the big men.
Kansas (32-3) was 8-of-13 shooting from beyond the arc in the first half, and it only got uglier from there.
"Our game plan was to focus on the bigs and take our chances on them hitting three-pointers," forward Alex Tiefenthaler said, "even though we knew they were capable of hitting three-pointers."
Portland State (23-10) played zone for a good chunk of the first half, which never works against a team featuring Mario Chalmers, Brandon Rush and Sherron Collins bombing away from 20 feet out. KU's big men got their share, too - 15 offensive rebounds turned into 18 second-chance points, and Darrell Arthur (17) and Darnell Jackson (10) both scored in double figures.
Portland State, meanwhile, seemed overwhelmed by KU's defensive athleticism early, and it led to forward Kyle Coston chucking desperation three-pointers.
But the Vikings calmed down and scored off cuts and solid assists by point guard Jeremiah Dominguez. At one point, the KU lead was cut to 24-18, and the PSU bench felt good.
Briefly.
"I feel like we have a good team," PSU coach Ken Bone said. "Scott Morrison had a good year. Deonte Huff and Jeremiah Dominguez. But none of those three can take over a game like this for a period of time because (of) Kansas' athleticism and their length."
Nowhere was that more obvious than with Dominguez, the Big Sky player of the year who had just three first-half points because he couldn't get open. The 5-foot-6 point guard wasn't nearly as athletic as KU's backcourt, and it took some nifty shots late to get him to a team-high 13 points on the day.
So Portland State's first NCAA Tournament appearance ended about like everyone thought it would. But just minutes after the game, while munching away on lunch in the locker room, several Vikings players already had next year in mind.
"It's definitely an experience I'm going to cherish," said Tiefenthaler, a sophomore who had 10 points. "It's the first for me. Hopefully not the last."
Copyright 2018 The Lawrence Journal-World. All rights reserved. This material may not be published, broadcast, rewritten or redistributed. We strive to uphold our values for every story published.