2008 NCAA Tournament
Photo Gallery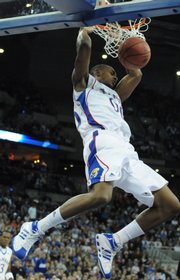 KU vs. Portland St.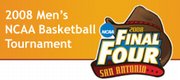 Get your March Madness fix at KUSports.com.
Where there's a will, there's a way.
That should be Kansas University fans' motto.
Jayhawk fans brought televisions to work or cranked up radios to keep up with the action Thursday morning during KU's first round NCAA Tournament victory over Portland State.
Others hoped to catch the game during lunch.
At noon, KU fans Kay Patterson and Jenni Morell, both of Lawrence, enjoyed lunch outside Jefferson's, a downtown sports bar that had been packed since 10:30 a.m.
"We're playing it by ear," Patterson said of hearing the cheering from inside.
While the employees at Jefferson's were busy serving food and drinks, other downtown employees were waiting for customers.
Just down the street at Jock's Nitch Sporting Goods, employee Amie Worthington, a KU junior, and store manager Ryan Owens were watching the game in an empty store full of Jayhawk memorabilia.
Both were confident that business would pick up after the game and as KU made its way to the championship.
"The longer the season is, the better sales are," Owens said.
In fact, he hopes to add Final Four and National Championship T-shirts to the racks of Big 12 Championship T-shirts already hanging in the store. Orders for Final Four T-shirts were made in January, and National Championship T-shirts were ordered when the team earned a No. 1 seed.
"We have a ton of them on the way," Owens said. "They will be available bright and early the next day."
And it wouldn't be surprising if Lawrence resident Diane Menzie, a downtown post office clerk, was one of the first to buy one. On Thursday, she was sporting a March Madness shirt and Jayhawk necklaces, bracelets, earrings, a watch and socks.
"We're going all the way," she said in an empty post office at 12:40 p.m. as the game blared over speakers. "I have UCLA and Kansas in the final game."
Menzie, a Jayhawk fan since 1978, believes the players "want it this year" as much as the fans. She also said Sherron Collins' energy and quickness will be the spark that gets the team to a championship.
The avid KU fan didn't mind missing some of Thursday's game because she figured the Jayhawks would win handily. But Saturday, she doesn't have to work and she's eager to watch the entire game.
"My lady friends and I, we all get together and we have big basketball watch parties," she said enthusiastically.
A downtown dentist office didn't wait until Saturday.
Six employees at Wilkerson, Saunders & Anderson had a pizza party during their lunch hour in a small meeting room in the back. Of course, there was a TV and the KU fans were finally able to enjoy some of the game without sneaking peeks at their patients' TVs or from the one in the lobby that was brought in for the tournament.
When asked for their predictions, most said KU would make the Final Four or go "all the way." One didn't want to jinx the team and picked North Carolina over KU in the final. But when asked for her name, she turned red and began fanning herself. She didn't want KU fans to think she turned on her team, which provoked a room full of laughter. She changed her mind: KU will win it all.
A KU fan who didn't hesitate to say her team would go "all the way" was Pam Aversano, who wished she could have watched the game instead of manning the Kwik Shop store at Sixth Street and Kasold Drive where business was "dead."
"I would be in a sports bar right now if I wasn't the Kwik Shop manager," Aversano said.
She said the store is really busy before games with fans buying beer and snacks and then slows down until after the games. That's when the "wild and crazy" fans visit.
"March Madness is a fun time," she said.
Copyright 2018 The Lawrence Journal-World. All rights reserved. This material may not be published, broadcast, rewritten or redistributed. We strive to uphold our values for every story published.