2008 NCAA Tournament
Photo Gallery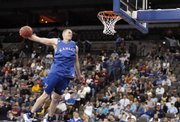 KU prepares for Portland State
Omaha, Neb. — Lew Perkins has been there.
Kansas University's athletic director certainly sympathizes with the constant struggles that Portland State experiences in athletics - tight budget, woeful fan support, playing second fiddle (or third, or fourth, or 10th) in an area with much bigger fish to fry.
So when schools like Portland State make it to center stage for the NCAA Tournament - the 16th-seeded Vikings will face top-seeded Kansas at 11:25 a.m. today - it's a feel-good story that Perkins quickly recognizes.
"I admire those guys for what they're doing," said Perkins, who worked for small athletic departments at South Carolina-Aiken and Pennsylvania when he was younger. "My hat's off to all those guys. It's a tough situation."
It won't get any easier today. The Portland State-Kansas basketball game, in all likelihood, will serve as a microcosm of both schools' position on the college athletics totem pole. Kansas is the power, a well known school with a $51 million athletic budget, unlimited fan support and tradition that brings blue-chip athletes in annually. The Jayhawks (31-3) are favored today by 23 points.
Portland State (23-9) is quite the opposite. The athletic department recently reported an $8 million budget, and football presumably is where most of the money goes. The Vikings' basketball team didn't even exist between 1981 and 1996 for financial reasons, then was reinstated soon before PSU baseball took its place in the grave.
The Vikings went 13-1 at home this year and averaged 1,347 fans per contest. Head coach Ken Bone, well respected on the West Coast, has been unable to land an in-state recruit in three years of trying - which he described to the Portland Oregonian as an experience similar to "banging my head on a wall."
But honestly, what could Bone sell before winning the Big Sky Conference this season? Portland State is a commuter campus with minimal passion for its sports teams. When the Vikings were cutting down the nets after winning the Big Sky tournament and clinching their NCAA berth, Portland's Rose Garden was mostly empty. It caused Oregonian columnist John Canzano to criticize the community, saying, "maybe this story feels more Cinderella-like because (Portland) decided to play the ugly stepsisters and blow the big moment off."
With everything stacked against PSU in recruiting, the players who make up the roster largely are transfers who were looking for another home. Wichita native Dupree Lucas started his career at Xavier. Portland native J.R. Moore went across the country to Rhode Island before returning. Three players came from the University of Portland across town, including star point guard Jeremiah Dominguez. Another came from Washington, another from Hawaii and four more from junior colleges.
Remarkably, it all has come together. Portland State was picked to finish third in the preseason coaches poll, but cruised to an easy victory in the league race, three games ahead of second-place Northern Arizona. Then, two double-digit victories in the conference tournament sent the Vikings to the Big Dance.
It was a watershed moment for Portland State hoops. Yet at Wednesday's open practice at the Qwest Center, two fans in Vikings attire showed up.
Just two.
One was Richard Fink, a 1973 Portland State grad who had a two-stop flight to Omaha which finally arrived at 2 a.m. Wednesday.
He went 12 years without Portland State basketball when the program was eliminated. He wasn't missing this moment.
"It's just a dream come true," he said.
More glory could come, surely, if the support Fink shows was more prevalent. But even a passionate fan like Fink knows that "it's a different world" between Kansas and Portland State. When a reporter wished him luck after an interview, Fink responded, "Yeah, we'll need it."
Even so, the Portland State players have risen above all that's holding them down. Many feel that a 16 seed inevitably will beat a No. 1 someday. The Vikings' battle cry simply is, why not today?
Considering their improbable run to this point, the Vikings certainly don't view history as a roadblock anymore. They conquered a lot more just to get this far.
"We've never been to this point. We've never won the conference championship," Bone said. "Now we're a 16 seed. Let's see if we can do something else that's never been done."
Copyright 2018 The Lawrence Journal-World. All rights reserved. This material may not be published, broadcast, rewritten or redistributed. We strive to uphold our values for every story published.