2008 NCAA Tournament
Photo Gallery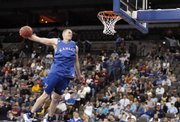 KU prepares for Portland State
Omaha, Neb. — It's always so easy to say this year's team is better than last year's. Nobody ever wants to disagree with that, especially when last year ended just short of the target.
It just happens that saying this year's team is better than last year's happens to apply to Kansas University.
Sure, Julian Wright moved on to the NBA a year before anticipated, but that created more minutes for Darnell Jackson, and look what he has done with that opportunity.
True, Brandon Rush underwent ACL surgery, but he's all the way back, as evidenced by his earning outstanding-player honors at the Big 12 tournament. Mario Chalmers is better than ever, and Russell Robinson remains a steadying hand.
Last year's team made it all the way to the Elite Eight, blew too many layups against UCLA and went home.
Last year's team didn't get a strong performance from the nation's best sixth man, point guard Sherron Collins. He was playing with a knee injury then, and that affected his conditioning, his defense, his shooting. He played poorly in the four NCAA Tournament games, averaging 6.3 points per game and shooting .333. His return to health, more than any other factor, makes it easy to believe this year's team is more prepared to get to the Final Four.
"I feel great compared to last year," said Collins, who this season had the fortune of getting his injuries (broken foot, bruised knee) out of the way in time for the tourney. "I couldn't really move. I couldn't do a lot of things. I took it kind of hard because I couldn't help my team, but now I'm ready to roll."
Collins called it "great timing."
"I don't think I could be peaking at a better time," Collins said. "I think the team's peaking. I think we took steps forward. We're just playing better and jelling. I think we keep that going, we'll be great."
Collins proved his health in the Big 12 tourney title game, when he did a strong job of keeping Texas superstar guard D.J. Augustin in front of him when guarding him in the second half. Augustin had two second-half points.
"I knew it was in me, but I haven't done it in a long time because I haven't been healthy," Collins said. "When I was hurt, sometimes I had to pick my spots, pick a time when I wanted to gamble on defense. Now I can just go out and guard, play mind-free, no injuries. I'm healthy, and I'm fast as can be. I think I can pretty much guard now. It's helping me, and it's helping my teammates out."
Collins also got a technical foul out of his system during the conference tourney when he got into the face of an opponent who had fouled him hard on the way to the hoop.
KU coach Bill Self loves tough players who never back down, forever remain the aggressors. Collins is a bonfire of emotions. If anything, Self has to pull the reins in on him on occasion.
"I should have kept my mouth shut," Collins said. "Coach just mentioned to me I've got to keep my head, especially during the NCAA Tournament."
If Collins keeps his head and his health, there is a strong chance he'll be able to run his mouth from now for the rest of his life about being the catalyst for a national championship.
Copyright 2018 The Lawrence Journal-World. All rights reserved. This material may not be published, broadcast, rewritten or redistributed. We strive to uphold our values for every story published.