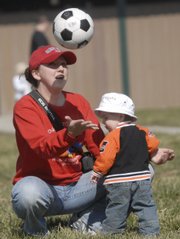 Related document

Kansas population totals ( .XLS )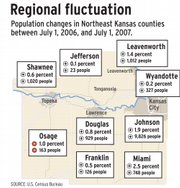 About average.
After decades of being a leader in population growth in Kansas, the latest Census Bureau numbers for Douglas County show the community now is doing little more than keeping pace with the statewide average.
Douglas County had a growth rate of 0.8 percent from July 1, 2006, to July 1, 2007, according to the new Census Bureau report. The statewide average was 0.7 percent.
"I guess it is good that we're keeping up with the statewide average, but it is not good that we're not maintaining a 1.5- to 2-percent growth rate," said Douglas County Commissioner Bob Johnson. "That is much healthier for a community like Lawrence.
"My main thought is we're not doing as well as we ought to be doing."
The latest numbers are in stark contrast to the growth rates of the 1980s and 1990s. During the 1980s, Lawrence's population - which makes up the biggest chunk of the county's population total - grew by 2 percent per year. In the 1990s, the rate increased to 2.2 percent per year.
The slowdown in growth hasn't struck all area counties. Johnson County continued to chug along with a 1.9-percent growth rate, fourth best in the state. Leavenworth County also put up noteworthy numbers with a 1.4-percent growth rate. In fact, Leavenworth County added 1,012 residents during the time period. That's nearly 100 more than Douglas County did, despite Leavenworth County being about 40,000 people smaller than Douglas County.
"We feel like we've really started to reverse a downward trend," said Chris Dunn, Leavenworth County's planning and zoning director.
Dunn said the county had become a popular place for military retirees, who were looking for lower land and home prices. There's also a large number of government contractors doing work at Ft. Leavenworth related to the War on Terror.
He also said the county continued to be well situated for Kansas City commuters and employees of the growing Legends shopping center area in western Wyandotte County.
"If you have a job at the Legends, Basehor, Linwood, Tonganoxie are all good places to live," Dunn said.
A good location is long what Lawrence had as a selling point during the 1980s and 1990s. But now, Lawrence City Commissioner Mike Dever said the city's location may be hurting it.
"I think a lot of our steady growth was due to the opportunity to live in Lawrence and easily commute to Kansas City or Topeka," Dever said. "But with the cost of gas, the cost of commuting has really increased. That has to have an impact on the ability of people to call Lawrence home."
Both Dever and Johnson said that drives home the importance of bringing more jobs to Lawrence.
The latest numbers are similar to the numbers put up over the past few years. In the past, the city has challenged the Census Bureau and has had the estimates raised, although only slightly last year. Amy Miller, a planner for the city and county, said the planning department hadn't yet developed a population estimate for the entire county. But she said the 0.8-percent growth rate was similar to what the planning department had estimated for Lawrence.
The Census Bureau will release population estimates for individual cities this summer.
Tops in State
Douglas County had the 14th highest growth rate in the state at 0.8 percent. Here's a look at the counties at the top of the list.
1. Pottawatomie County: 2. 5 percent2. Miami County: 2.5 percent3. Wabaunsee County: 2.0 percent4. Johnson County: 1.9 percent5. Hamilton County: 1.5 percent
In terms of actual number of people added, Douglas County ranked fifth in the state, with 929 people. Here's a look at those that ranked ahead of Douglas County:
1. Johnson County: 9,826 people2. Sedgwick County: 6,705 people3. Shawnee County: 1,020 people4. Leavenworth County: 1,012 people
Source: U.S. Census Bureau
Copyright 2018 The Lawrence Journal-World. All rights reserved. This material may not be published, broadcast, rewritten or redistributed. We strive to uphold our values for every story published.