Photo Gallery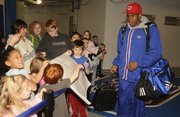 KU heads to Omaha
Omaha, Neb. — Kansas University's basketball players and coaches didn't watch tape on Portland State or hold an impromptu team meeting on the Heartland Trailways bus that carried them from Allen Fieldhouse to the Downtown Omaha Embassy Suites hotel Tuesday afternoon.
"We had a team nap. I thought that was very productive," KU coach Bill Self joked after descending the stairs of the luxury cruiser at 6:13 p.m.
His Jayhawks, who will hold a 10:30 a.m. practice today at an Omaha high school, then work out in front of the public from 1:30 to 2:10 p.m. at the Qwest Center - site of Thursday's 11:25 a.m. first-round NCAA Tournament game against the Vikings - had a busy Tuesday.
They lifted weights at 11:30 a.m., practiced an hour and a half at the fieldhouse, ate lunch, drove to Omaha, then chowed on dinner before a nighttime film session at the hotel.
"We had a spirited workout today," Self said. "The guys seemed to be somewhat rested (after day off Monday), and I know they are looking forward to the opportunity ahead of them."
Self grinned when asked if the players would be allotted a lot of free time to explore the nearby Old Market district of Omaha.
"None. They won't have any freedom," Self said. "We may give the guys an opportunity to hang out at the bottom of the hotel. Unless something gets cleared through our staff the guys will not be leaving the hotel.
"Creighton plays at home tonight. Some of our seniors requested possibly going to see Nick play," Self added, referring to former KU guard Nick Bahe, now at CU.
Seniors Jeremy Case and Russell Robinson were seen at the game, televised by ESPN.
"We'll be in bed early tonight, lights out and hopefully get some rest."
Self said the coaches would do their best to shield the players from "distractions" in Nebraska.
"Guys have more friends now than they've ever had," Self said. "Everybody's going to want tickets. You have family members you feel you have to get to the game. You have (pro) agents, runners ... this is a time they focus in and try to get to people because all the family members are in one place. There's a lot of things going on. What we need to do is not let anything outside the lines affect what's going on inside (the arena)."
As far as Thursday's first-round game ... Self stressed he wished he had "one more day" to prepare for 23-9 Portland State.
"Every coach would say that, though," Self said. "We'll get our guys real familiar with Portland State tonight. I've already seen four tapes on them and will see four more tonight. Tomorrow we'll concentrate on them (Vikings) and what they do and hopefully we'll have everything in place Thursday to play well."
The more tape Self views, the more impressed he becomes with 16-seed Portland State, a team led by Big Sky Player of the Year Jeremiah Dominguez, who averages 14.3 points a game.
"They have great guard play, great depth. This is not coachspeak. They are very unselfish and can pass the ball. They make the extra pass as well as we do, or better. They are active and quick and play with a sense of urgency.
"It is going to be a tough game. It's not a game we are thinking, 'It's a one (seed) versus 16 so it's going to be easy.' We are thinking it is going to be a difficult game, and it will be."
Copyright 2018 The Lawrence Journal-World. All rights reserved. This material may not be published, broadcast, rewritten or redistributed. We strive to uphold our values for every story published.