Photo Gallery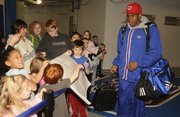 KU heads to Omaha
Omaha, Neb. — Junior guard Mario Chalmers' improved athleticism since he arrived at Kansas University inspires a lot of talk when he soars so high, so quickly to block the shot of an opposing center, and when he elevates to throw down a one-handed dunk.
It's rare for a player to get so much more athletic, especially considering Chalmers was no plodder when he left Anchorage, Alaska, for Lawrence. His explosive plays understandably inspire a lot of chatter and tend to overshadow another area of improvement from him. An accurate long-range shooter as a freshman (.375 from three-point country), and a better one as a sophomore (.404), he has developed into a dead-eye as a junior (.480).
Chalmers played 33 games as a freshman and has played 33 this season, going into Thursday's opening-round rout of Portland State in the Qwest Center. As a freshman, he attempted 144 two-point field goals and made 73 for a .507 percentage. This season, he has made 74 two-point field goals and attempted 132 (.561).
His assists-to-turnover ratio was 1.37 as a freshman and is 2.32 this season. Quietly, except for his 30-point outburst in the Big 12 Conference tournament title game, Chalmers has developed into a remarkably efficient guard. He shoots more frequently and scores more often, creates more opportunities for others, and makes better decisions on the break than at any time in his career.
Chalmers needed just a season-high 15 field-goal attempts to score 30 points. On many teams, he would average close to 15 shots a game. For balanced Kansas, Chalmers has reached double figures in shot attempts just eight times.
Chalmers seldom takes a bad shot, and the same can be said for the entire Kansas team. Think about it: When is shot selection ever an issue with this team? For every field goal attempted, Kansas has generated 1.13 points, excluding free throws on three-point plays. Chalmers, scoring 1.276 points per shot, leads the team in that category. Darnell Jackson (1.275) ranks second.
That sort of team shooting efficiency isn't possible without players being put in position to get good shots and without players having the wisdom to avoid pulling the trigger on low-percentage ones. Both qualities speak to discipline, and ultimately, coaching.
Bill Self's teams play a disciplined brand of basketball, but he tends not to get as much credit as other coaches for that because his teams play at a fast pace. For some reason, discipline tends to be equated with walking the ball up the floor, milking the shot clock, and winning low-scoring games.
At times during the Big 12 regular season, the Jayhawks sometimes became undisciplined defensively, going for too many steals, and reaching for too many fouls. Offensively, though, the Jayhawks (31-3) remained efficient.
Chalmers doesn't get enough credit for playing with discipline, for taking smart shots, for sharing the ball. Who knows why? Maybe it's because he doesn't have a crew-cut and doesn't answer to the overused "overachiever" label. Whatever the reasons, Kansas is fortunate to have him on its side.
Copyright 2018 The Lawrence Journal-World. All rights reserved. This material may not be published, broadcast, rewritten or redistributed. We strive to uphold our values for every story published.