Photo Gallery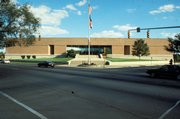 Modern architecture
Modern architecture has taken root in some small, midwestern communities. Beginning in the 1970s, Columbus, Ind. became a magnet for contemporary architecture, and now the city of about 39,000 uses its unique buildings as a calling card for tourists.
The location has grown into a forgettable one - or at least, one that most would like to forget.
Particle boards cover the windows of the former sandwich shop, and weathered shake shingles hang loosely from the side of the bygone bar The Crossing. Perhaps the most interesting feature of the site are the hundreds of scrawlings - "Hail Mary," "Booze Wahzee" and many others that don't go into a family newspaper. They cover the split siding and decking of the tavern that once was busier than Fraser Hall.
But when Dennis Domer - the associate dean emeritus of the Kansas University School of Architecture - sees the site at 12th and Indiana streets, he sees something much different. He sees the premier architectural site in all of Lawrence.
Signs of money flow by it at all hours of the day as students and faculty traverse the crazy corner to get to the adjacent university. The location is perfectly positioned between a busy neighborhood and prime gathering spots such as the Kansas Union and KU Alumni Center.
But mainly what the site has is the high ground. It towers over the community and offers one of the few locations left to transform the city's skyline.
In short, it is a hill awaiting a beacon.
Soon it will have one. The Oread Inn, a seven-story hotel and condo development, will occupy the hilltop, and in the process will become one of the larger private buildings constructed in recent memory. A true signature building in the community.
Domer is fine with all that. You won't find him fighting to save the buildings of Yello Sub or The Crossing. A first-class hotel on the edge of campus makes a world of sense, he said.
The problem, Domer says, is it's the wrong beacon.
The hotel is designed in an older style, with traditional throwbacks to classic architectural forms. Undoubtedly, to lots of people that sounds pretty good. But not to Domer, and he doesn't think it should sound good to a community that wants to tout itself as one of the better-educated, more forward-looking cities in the country.
"You can't have a progressive city if you don't look progressive," Domer said. "No one is going to come here for English Colonial and neoclassical architecture. No one is going to see that and believe we're progressive."
Domer said the hotel project represented an outstanding opportunity to build a "building of our time." Something that doesn't look back to Greece or Rome for its inspirations but rather grabs the here-and-now and molds it into an edifice. He thought the building should have had modern lines, been narrower at its base, and - here's the real kicker - taller. It should have been a true tower-like structure that would have rivaled the Campanile and Dyche Hall. The third piece of an architectural trinity, of sorts, atop Mt. Oread.
Paul Werner - a Lawrence-based architect who helped design the project - respects Domer. The Fritzel family, who is behind the development of the hotel, even made some design changes to the building at the urging of Domer and KU Architecture Dean John Gaunt. But here's what Werner also knows about this community: If the developers had tried to put a tall, modern tower on the site, the response would have been predictable.
"They would have killed us," Werner said.
Domer doesn't dispute that. In fact, the major opposition to the current design was that it was too tall. Historic preservationists argued it should be shorter, something Domer thinks would have made it worse.
So the solution, Domer said, is simple. He's no longer trying to change the design of The Oread Inn, which already has been approved by the City Commission. Instead, he's trying to change a city's mindset.
"We are in real need of architecture education in this city," Domer said.
¢¢¢
The problem with Lawrence architecture could be summed up this way: John Haskell is dead, and Wescoe Hall is very much still with us.
Haskell was the famed 19th-century Lawrence architect who designed the Douglas County Courthouse, parts of the Statehouse and many of the area's most significant buildings of the era as the state architect.
Wescoe Hall, of course, is KU's ode to 1970s, concrete architecture - a major classroom building near the center of campus whose appearance has been nearly universally panned for about 40 years.
Domer doesn't think Lawrence has gotten over either Haskell or Wescoe. Domer said community members - but particularly developers - have fallen in love with the renowned style of Haskell and are afraid that anything modern will come off as bad as Wescoe.
"We need to get beyond Wescoe and any other terrible building that is out there," Domer said. "We have to realize that bad buildings come in all architectural styles and expressions."
When it comes to Haskell, Domer said developers need to realize they aren't paying homage to him by trying to imitate him.
"His buildings are signature buildings of his time," Domer said. "We need to really do the best of our time."
¢¢¢
But let's not kid ourselves here, Domer says. This isn't all about the love of a particular style. It is much more about money.
"We have this small cadre of builders in town who are also our developers," Domer said. "They have a certain view of stylistic expression that they believe sells. So, in some ways we're sort of hijacked."
Domer said he wants to open up a dialogue with developers about how contemporary architecture could work in this community. Several architects and developers said they're open to that. Bo Harris - who built and developed the Hobbs Taylor Lofts downtown, among other projects - said he's open to more contemporary design but isn't sure it always fits with the regulatory climate in Lawrence or the public demand.
"I kind of feel like the opinion of the community lends itself to more of a traditional architecture, especially in downtown Lawrence," Harris said.
Dan Sabatini, a Lawrence-based architect, said he's also a fan of contemporary architecture and thinks it would sell in Lawrence. He thinks it would sell. In other words, it is not a proven commodity, and that makes a big difference in the development world.
"People respond to what they know," Sabatini said. "Developers are taking a lot of risks when they do a project, and they justifiably want to limit their risks. Doing a traditional design is one way they feel like they may be able to limit their risks."
That's why Sabatini said most of the contemporary architecture in Lawrence has been done by public institutions - fire stations, churches, campus buildings - that don't have to worry about finding tenants.
Plus, no one should fall into the trap of thinking developers are dumb. The ones who make money don't make a habit out of giving the public something it doesn't want.
"There are a lot of things that people can relate to in a traditional style," said Werner, who said he also personally is a fan of contemporary architecture. "When you start to do something too new - Lawrence doesn't always do too well with new stuff - people can get nervous."
Werner said the hotel project is a good example of how traditional plays well. He said despite the objections from some members of the architecture community, many lay people said they liked the design. Indeed, the project received strong support from the surrounding neighborhood.
But Domer said that doesn't necessarily make it good architecture. He said to simply suggest all architecture is subjective is a red herring that "sweeps 4,000 years of architecture history under the rug."
Domer, though, said he recognizes that good architecture can't be imposed. He's not proposing that the city create any new regulations governing the architectural design of buildings. In fact, he thinks city regulations sometimes get in the way of the open discussions that often spark great designs. That's why he just wants to talk.
"I admit to property rights," Domer said. "But can't we have a discussion? Maybe we can change each other's minds."
¢¢¢
It would be an interesting discussion because for Domer - a man who keeps office hours at the Bourgeois Pig and carries a sketch pad like other men carry a Palm Pilot - architecture is far more than beauty and buildings. It's like the rings on a tree. It is society's marker that tells future generations what our time was like.
Today's architecture - with some exceptions - tells a forlorn tale, he said. He said the lack of modernity is a sign of the community failing to connect with the intellectual ideas of the university.
But mainly, he said, Lawrence's architecture says a lot about something community leaders spend a lot of time discussing - our vision.
"It seems like it says we are stuck," Domer said. "We are interested in the status quo. It makes it look that we're afraid to take advantage of all that we have before us."
Copyright 2018 The Lawrence Journal-World. All rights reserved. This material may not be published, broadcast, rewritten or redistributed. We strive to uphold our values for every story published.