Photo Gallery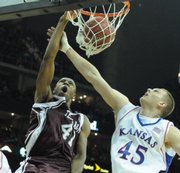 KU vs. Texas A&M
Kansas City, Mo. — To Mario Chalmers, Missouri and Kansas State at the moment are considered Nos. 2a and 2b. The order doesn't really matter.
"In my book, I think (the rivalry with Texas) is No. 1, just because most of the times we play them it's for a championship," the Kansas University guard said Saturday. "And a championship means more than a regular-season game.
"I saw (Texas') D.J. (Augustin) and A.J. (Abrams) talk about it on TV today, talk about that most people say Oklahoma's their rival, but I agree with them - I agree us and Texas are big rivals now."
The Jayhawks' 77-71 semifinal victory over Texas A&M; in the Big 12 tournament, combined with the Longhorns' 77-49 pasting of Oklahoma earlier in the day at Sprint Center, sets up a KU-UT finale for the third straight season.
In Chalmers' three seasons as a Jayhawk, this will mark the sixth meeting between the programs, with KU holding a 2-0 record in postseason play and Texas a 2-1 advantage in the regular season.
"They definitely feel like a rival," fellow junior Brandon Rush said. "Because we beat them the last two years in the tournament and then they beat us in their spot. This is the same thing that happened our freshman year: We lost down in Austin then we came back and beat them in the Big 12 tournament.
"There's no bad blood at all, just two teams trying to figure out who's the best team in the Big 12."
Aside from both teams consistently carrying impressive records and resumes into each meeting over the past three seasons - the two shared this year's regular-season championship - the list of do-you-remember moments which make rivalries that much more memorable is constantly growing.
Already, there's...
l Julian Wright's 360-degree jam in the open floor to help seal the 80-68 victory in the Big 12 title game in 2006.
l Kevin Durant's 25-point first-half eruption last season in Allen Fieldhouse, followed by a 16-point swing for KU in the second half leading to the Jayhawks clinching the regular-season league crown.
l Damion James, after sitting most of the first half with two fouls, blowing up for 12 points and 13 rebounds after halftime in Texas' 72-69 victory in Austin last month.
"We have a great respect for them, and the feeling is probably mutual," KU coach Bill Self said. "But I think it is very fitting that we get a chance to play each other because, you know, this is the way it's been the last three years, and it can certainly change in the future, but it's been a pretty good run for both programs."
This game could also carry the potential of a No. 1 seed in the NCAA Tournament with it, despite the fact today's game ends just before the start of the NCAA selection show.
"It doesn't really matter to us, but we think there's still a No. 1 seed at stake," Chalmers added. "I think there still is one for us."
Copyright 2018 The Lawrence Journal-World. All rights reserved. This material may not be published, broadcast, rewritten or redistributed. We strive to uphold our values for every story published.