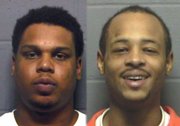 Major Edwards Jr. and Durell Jones had one thing in common: illegal drugs.
Both men ran afoul of the law during the last few years because of their drug activities, according to federal court papers.
Now Edwards and Jones have one more connection. Each has been charged with first-degree murder in the October 2006 death of Anthony Vital, 28, of Lawrence.
In 2000, Edwards, 28, of Lawrence, also known as "Ja Ja," was convicted in a cocaine sale case in Douglas County. That conviction made it illegal for him to possess a firearm. But in November 2006, a month after the discovery of Vital's body in western Douglas County, Edwards was indicted on six federal firearms charges.
In January, Edwards pleaded guilty to one of the weapons charges. Edwards admitted that on Aug. 11, 2006, he left a short-barrel, 12-gauge shotgun on the porch of a Lawrence residence. The next day he returned to the home to get the gun and learned that it had been turned over to police.
Edwards will be sentenced April 14 on that gun charge in federal court in Kansas City, Kan. He faces a maximum of 10 years in prison and a fine of up to $250,000.
In the days after Vital's death, Douglas County officials' investigation led to Edwards, who was described at the time as a "person of interest" in the murder case. But Edwards was not charged at that time.
Jones, 23, of Kansas City, Kan., is to be sentenced later this month for possession of crack cocaine with intent to distribute. He pleaded guilty to the charge last year. The case stems from his arrest in December 2006 in Kansas City, Kan. Jones faces a prison term of five to 40 years and a possible fine.
According to other federal court documents, Jones has at least five felony juvenile adjudications from 1998 to 1999. He had two felony sex offenses in 2002.
During a two-year stint in state prison that ended in November 2005, Jones had 40 violations of prison rules.
Copyright 2018 The Lawrence Journal-World. All rights reserved. This material may not be published, broadcast, rewritten or redistributed. We strive to uphold our values for every story published.