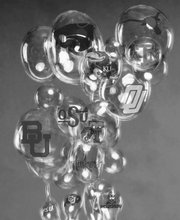 Related document

Big 12 Spotlight 03-12-08 ( .PDF )
Big 12 history
Here's a list of how many teams the Big 12 Conference has put in the tournament in its 11-year history:
1996-97: 5 (CU, ISU, KU, OU, UT)
1997-98: 4 (KU, NU, OU, OSU)
1998-99: 5 (KU, MU, OSU, OU, UT)
1999-00: 6 (ISU, KU, MU, OU, OSU, UT)
2000-01: 6 (ISU, KU, MU, OU, OSU, UT)
2001-02: 6 (KU, MU, OU, OSU, UT, TTU)
2002-03: 6 (CU, KU, MU, OU, OSU, UT)
2003-04: 4 (OSU, KU, UT, TTU)
2004-05: 6 (ISU, KU, OU, OSU, UT, TTU)
2005-06: 4 (KU, OU, UT, A&M;)
2006-07: 4 (KU, UT, A&M;, TTU)
Big 12 Conference basketball fans have two ways of looking at their teams' chances of competing in the big dance, which begins March 20.
Situation No. 1: Glass half full.
Optimistically, the Big 12 has a chance to land as many as six bids to the tournament.
The conference hasn't had six teams participate since the 2004-2005 season. This year, however, five teams have conference records above .500. Six teams also have won at least 20 games.
Another factor working in the conference's favor is the fact that the Big 12 is the second-ranked conference in the nation in the RPI. Six Big 12 teams are in the Top 50 of the index.
Then, there's situation No. 2: Glass half empty.
Pessimistically, the conference has only had two consistent teams - Kansas and Texas. The other teams have failed to play well away from home.
Selection Sunday is four days away. Who's in and who's out from the Big 12?
Here's a glimpse into the Journal-World's crystal ball:
Locks
1. Kansas (28-3 overall, 13-3 Big 12)
Quick hits: The Jayhawks are playing their best basketball at the proper time of year. Since losing to Oklahoma State, KU's four wins have been by an average of 25 points. That, of course, included the 58-point drubbing of Texas Tech.
Why they could go far: Depth and experience. KU coach Bill Self has one of the deepest benches in the nation. Furthermore, everyone who logs regular minutes, with the exception of Cole Aldrich, has played in the NCAA Tournament already. The chance of another Bucknell or Bradley episode is as likely as snow falling in Lawrence in July.
Predicted seed: 2
2. Texas (26-5, 13-3)
Quick hits: The co-Big 12 champions enter this weekend's conference tournament with a Big 12-best fifth-ranked RPI in the nation.
Why they could go far: D.J. Augustin.
Championship-caliber teams typically have great point guards. Florida draped two consecutive national title banners in Gainesville with Taurean Green as its floor general. North Carolina won the year before that with Raymond Felton as its point guard.
Augustin averages 19.8 points and 5.7 assists per game, and has UT playing at a higher level than when Kevin Durant was around last season. For some perspective, Augustin's point and assist numbers are better than UCLA's Darren Collison (14.6, 4.1), Memphis' Derrick Rose (14.1, 4.5) and North Carolina's Ty Lawson (12.9, 5.5).
Predicted seed: 2
Semi-automatic locks
3. Kansas State (20-10, 10-6)
Quick hits: The Wildcats' 44th-rated RPI is slightly unimpressive. In fact, Oklahoma (No. 25 in RPI) and Baylor (No. 34) rank better in the index.
With that said, if Kansas State wins once in Kansas City, there's no way it doesn't make the NCAA's. The Wildcats haven't made the NCAA Tournament since 1996.
Argument for: Surely, the nominating committee will consider 10 Big 12 victories in the second-toughest conference in the nation. Oklahoma may have a better RPI, but K-State won the head-to-head battle this season in Norman, Okla.
Argument against: The only way the Wildcats miss the tournament is with a second-round loss in the conference tournament and a bizarre scene, such as Texas A&M; or Oklahoma State making a run for the Big 12 tournament title.
Predicted seed: 8
4. Oklahoma (21-10, 9-7)
Quick hits: The Sooners have won their final three games to finish 9-7 in the Big 12.
Argument for: If the Top 25 relied solely upon RPI, OU (No. 25) would be ranked. The impressive schedule has included non-conference games against then-No. 3 Memphis, No. 24 USC, No. 20 Gonzaga, No. 23 West Virginia.
Argument against: OU is 2-6 against ranked teams this year.
Predicted seed: 8
Bubble teams
5. Baylor (21-9, 9-7)
Quick hits: The Bears have won four of their last five games. If Baylor defeats Colorado, it would set up Baylor-Oklahoma, Part III. OU defeated Baylor twice already, including once in overtime.
Baylor hasn't participated in the NCAA Tournament since 1988.
Argument for: Baylor has the 34th-ranked RPI in the nation. Quality wins include Notre Dame, then-No. 16 Texas A&M; and then-No. 25 Kansas State.
Argument against: Is there a signature win on the schedule? If it's Notre Dame, that game took place Nov. 18.
Predicted seed: 10
6. Texas A&M; (22-9, 8-8)
Quick hits: The departure of Acie Law IV has left the Aggies without a go-to scorer in the clutch. A&M;'s record is a perfect indicator of its roller-coaster season.
The Big 12 tournament is arguably more important for the Aggies' NCAA Tournament status than any other conference team.
Argument for: Texas A&M; has a signature win against Texas. The Aggies started the season 20-4, and 22 (victories) is typically a number the committee likes.
Argument against: The Aggies finished the season 2-5. If A&M; loses against Iowa State in the first round of the Big 12 tournament, the committee could deem A&M; too inconsistent for an NCAA ticket.
Predicted seed: 12
NIT-bound
7. Oklahoma State (7-9, 16-14)
Briefly: Cowboys are likely only team not a lock or a bubble team that has an outside chance of winning Big 12 tournament. Obviously, that's their only shot.
8. Nebraska (18-11, 7-9)
Briefly: Huskers haven't had 20-win season since 1998-99.
9. Texas Tech (16-14, 7-9)
Briefly: Coach Pat Knight was realistic in saying he'd be content with NIT this year.
Better luck next year
10. Missouri (16-15, 6-10)
Very briefly: Too many off-the-court distractions to be competitive this season.
11. Iowa State (14-17, 4-12)
Very briefly: 14-6 at home, 1-10 on road.
12. Colorado (11-19, 3-13)
Very briefly: Give CU coach Jeff Bzdelik time to recruit.
Copyright 2018 The Lawrence Journal-World. All rights reserved. This material may not be published, broadcast, rewritten or redistributed. We strive to uphold our values for every story published.