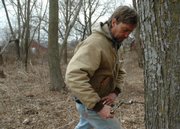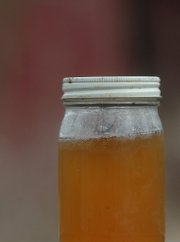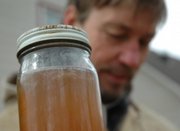 Bob Lominska is a farmer, so he knows about tending the land. But he also has an appreciation for what he calls "edible landscapes" - wild food sources that require little or no maintenance.
As a child, Lominska found these wild food sources on the south shore of Long Island, where he gathered blueberries and wineberries and went fishing, crabbing and clamming.
Today, he and his wife, Joy, tap maple trees on their organic farm north of Lawrence.
They've been making their own syrup for more than 30 years. In recent seasons, they've tapped four to five trees and made one to two quarts of syrup. In the past, when they had pancake-loving kids in the house, they made - and consumed - as many as nine quarts a year.
Syrup-making is an early-spring activity. Alternating freezing and thawing cause tree sap to flow. The sap of maple trees contains a small quantity of the sugar sucrose. Boil the sap down to about one-fortieth of its original volume, and you'll have maple syrup - the real stuff, not the mass-produced corn syrup-based kind.
Lominska, a Kansas University grad, first tried his hand at tapping in the mid-1970s. Soon after his initial tapping experiences, Lominska - then a kindergarten teacher at Woodlawn School - realized that making maple syrup would be a fine way to supplement the kindergarten science curriculum, with its emphasis on seasons. First he tapped silver maples on his farm and boiled down the sap on a hot plate in his classroom.
Later, while teaching at both Woodlawn and Hillcrest schools, Lominska found homeowners near the schools who were willing to share their maple trees with enthusiastic kindergarten classes. He and his students would walk to a designated tree and hammer in a tap. Using a nail and string, they'd hang an industrial-sized can to collect the sap. They didn't make much syrup, he says, just enough for children to sample with Popsicle sticks.
Lominska retired from teaching three years ago but still has fond memories of tapping with his students.
"It was just a real eye-opener for kids," he says. "They got very excited in a very good way."
Lominska recently shared his experience with a gathering of the Kansas Area Watershed Council. Mark Larson, a longtime Lawrence resident, was inspired by this conversation. He plans to tap the silver maple in his Old West Lawrence yard and process the syrup on his kitchen stove. With only one or two taps, he doesn't expect to make a lot of syrup, just enough for his own waffles and toast.
"I think it makes sense to use local resources," Larson says, "and this is a local resource that generally isn't recognized."
Maples are common in residential areas of Lawrence; look for trees with the seeds children call "helicopters." Directions for tapping trees and making maple syrup can be found on many Web sites. Taps may be purchased from several mail-order suppliers for about $2 each.
Lominska's advice for novice tappers: "Do it for fun. You could do a lot worse things with your time."
Copyright 2018 The Lawrence Journal-World. All rights reserved. This material may not be published, broadcast, rewritten or redistributed. We strive to uphold our values for every story published.