Photo Gallery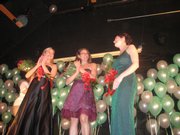 St. Patrick's Day Parade queen
The Lawrence St. Patrick's Day Parade queen was booed before she received her crown.
The crowd at the Flamingo Club, 501 N. Ninth St., razzed Colleen Callahan, a marketing consultant at KLZR-FM, for being an admitted Kansas State Wildcats fan before moving to Lawrence several years ago. But the crowd was appeased after learning that the she now roots for the Kansas University Jayhawks, and it cheered loudly when Callahan was named this year's queen.
"It was an amazing feeling. I was surprised, and was very happy and elated," she said.
St. Patrick's Day Committee board member Roger Browning said the committee invites women in Lawrence to apply for the coronation, with the expectation that they will be measured on their community service.
"The vote comes out based on how hard they work," Browning said.
"By definition, it is a popularity contest," said board member Scott McDaniel. "But the woman who is most popular is the one who brings the strongest commitment to the event."
Callahan said being named queen will help her become more involved in the Lawrence community.
"It's a way for me to represent the radio station and a way to represent the community," she said. "I'm very Irish, I'm very proud of my heritage, so I thought it would be a good fit for me."
The coronation was supposed to have been the final event before the 21st annual parade on March 17. But the Luck-of-the-Irish Poker Run, a motorcycle parade and card game, was postponed until next Saturday.
Before Callahan got her crown, the other candidates were announced. Jordan Brinkman and Lawrence native Sam Hamm, both KU students, joined Callahan on stage. The crowd also heard from representatives of the Social Service League and the County Fair Swim Club, which are the parade's beneficiaries this year.
Jean Ann Pike, of the Social Service Club, recounted the club's long history, from its founding after Quantrill's Raid to the children's shoe program it has today.
"This has been the most amazing thing I have ever been through," she said, lauding the support of people who have donated money to the parade committee's numerous fundraising events.
Retired Lawrence police officer Don Gardner, and his wife, Beverly, were crowned as the Senior King and Queen. Don Gardner said he was "honored and surprised and shocked" when he heard they were to be named king and queen.
Gardner, who founded Red Dog's Dog Days community workout programs a quarter-century ago, has seen the parade mature since its inception in 1988.
He said the parade has outgrown its initial reputation for bacchanalia, with the original route beginning and ending at bars.
"It went from the Flamingo to the Jet Lag, so it had that stigma," he said. "But it was great, and it continues to be great. I think what they do is awesome, that they do something for an organization every year."
The parade occurs March 17, and Callahan is looking forward to reigning over it with a special member of her court.
"What I'm looking forward to most is, during the parade, I really would like to bring my dog, Harriet, along for the ride," she said.
Copyright 2018 The Lawrence Journal-World. All rights reserved. This material may not be published, broadcast, rewritten or redistributed. We strive to uphold our values for every story published.