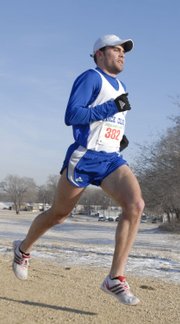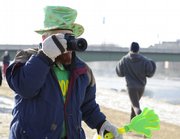 St. Patrick's Day precede
The Lawrence St. Patrick's Day Parade is a little more than a week away, but a few fundraising events have yet to take place. The Lawrence St. Patrick's Day Committee is donating all proceeds to the Social Service League of Douglas County and the County Fair Swim Club.
¢ Today, 7 p.m. St. Patrick's Day Queen Coronation, Flamingo Club, 501 N. Ninth St.
¢ Saturday, Luck-of-the-Irish Poker Run. Begins at 1 p.m. at the Slow Ride Roadhouse, 1350 N. Third St. A motorcycle procession continues through Tonganoxie, Oskaloosa and Perry, before ending at the Jet Lag Lounge, 610 Fla., for a poker tournament. The cost is $20 per hand.
¢ Monday, March 17, 1 p.m. Lawrence St. Patrick's Day Parade. The parade begins at South Park and heads down Massachusetts Street and into North Lawrence, ending at the Flamingo Club.
With temperatures in the teens, Saturday's Shamrock Shuffle was an unlikely early-morning activity for about 400 people who withstood the cold to run in the 5K race. One of the last events leading up to the Lawrence St. Patrick's Day Parade on March 17, the race drew experienced runners and casual walkers, who hoped to burn off some of the calories that accumulated over the winter.
The race, one of several fundraisers for the Social Service League of Douglas County and the County Fair Swim Club, took place in North Lawrence on a path adjacent to the Kansas River. It kicked off shortly after 8 a.m., as steam drifted up off the river.
Gene Shaughnessy, a member of the St. Patrick's Day Committee board, said the event was expected to raise about $5,000.
For many runners, the Shamrock Shuffle was the first race of the running season, making it a touchstone from which to gauge improvements throughout the season.
Glenn Robertson, a Lawrence resident who began running 5K races in 2007, said his goals shifted from simply keeping his food down to finishing in about 20 minutes.
"I'm really looking to shave some time off my 5K runs, and then maybe move up to a 10K or a half marathon," Robertson, 45, said. "It just depends on how my legs hold up."
Kansas City, Mo., resident Marc Bowman, 48, said Saturday's run was his first 5K. The run was part of a six-month-old training regimen.
"I'm trying to get in better shape," he said. "I'm trying to build up to a marathon."
The race celebrated its 19th year, and some who cheered on friends or family members said the chilly weather kept them off the running path.
"I was supposed to run, but it was too cold," said Annette Alonzo, a Topekan who said she began running in the Shamrock Shuffle in 2002.
Shaughnessy was enthusiastic about how community support for the St. Patrick's Day parade has grown since it began 21 years ago.
"I think the community has kind of embraced the whole feeling of being a part of what we want to do," he said. "We appreciate the support we get from the people in North Lawrence."
Shaughnessy said the Luck-of-the-Irish Poker Run, scheduled for Saturday, was postponed because of worries that inclement weather and lingering salt on the road could make it dangerous for motorcyclists participating in the parade. The event will occur this Saturday.
Copyright 2018 The Lawrence Journal-World. All rights reserved. This material may not be published, broadcast, rewritten or redistributed. We strive to uphold our values for every story published.