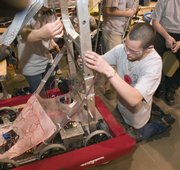 Kansas City, Mo. — Anthony Camp wormed through the crowded pit area to make room for what was behind him.
"Robot coming through," the junior from Bonner Springs (Kan.) High School shouted.
That sound echoed Saturday throughout the pit area at the FIRST Robotics Competition Greater Kansas City Regional at Hale Arena in Kansas City, Mo. Schools from four states competed in the regional play-off, with winners from here advancing to national finals in Atlanta.
FIRST is an acronym for "For Inspiration and Recognition of Science and Technology." The nonprofit organization was created in 1989 by inventor Dean Kamen.
Fifty-six high school teams buzzed through the pit at Hale, guiding their robots to and from their matches. At the team bases, members adjusted their robots to perform better in the next round.
The teams had six weeks to develop robots that could travel around a track and pull down large balls from an overpass above the track. Judges awarded points for rounding laps, pulling down the balls, pushing the balls around the track, tossing the balls over the overpass and placing the ball back up on the overpass.
While each team developed its own robot, the teams competed as an alliance with two other teams, making the competition three-on-three.
Strategy came into play when developing a robot, Bonner team captain Lindsey Johnson said. However, strategizing didn't always work.
"We literally had to cut off the entire front of the robot and redesign it," said Charles Frager, sophomore at Lawrence High School.
Lawrence, Kan., senior Yoshika Crider said the team wasn't prepared to have to adjust its robot because it was oversized, but admitted it was a learning experience.
"The brainstorming and problem-solving aspects are all used in engineering," she said. "Stuff comes up, and you have to think on your feet."
Students also learn life lessons, said Mary Beth Mattingly, sponsor of the Mill Valley High School team from Shawnee, Kan. "You have to work with two other teams, and life requires cooperation," she said.
Lindsey said teamwork also is important for advancing to finals. A good performance during a match meant higher rankings and the chance of getting noticed by better teams.
The top eight teams at the end of regular competition were able to select the teams on their alliance during finals.
"We're hoping if we win our next couple of matches, we might have a chance to make it to the finals," said Jerry Hodina, senior from Shawnee Mission North High School in Overland Park, Kan.
When alliances for finals were selected Saturday, Lawrence, Mill Valley, Bonner and North were not selected.
"We had a lot of unanticipated electrical failures," Mill Valley junior Ted Hilk said. Although not part of the finals this year, Ted already was looking ahead to next year's competition. "We are overall far more functional than we were our first year," he said.
Copyright 2018 The Lawrence Journal-World. All rights reserved. This material may not be published, broadcast, rewritten or redistributed. We strive to uphold our values for every story published.