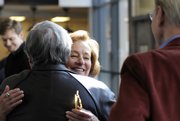 Past Event
12 young musicians perform classical music
When: Sunday, March 9, 2008, 7 p.m.
Where: Lawrence Arts Center, 940 New Hampshire St., Lawrence
-->
-->
Longtime Lawrence Arts Center executive director Ann Evans saw the city institution grow by leaps and bounds in her 33 years at the helm.
Evans, who retired at the end of 2007, oversaw art class enrollment grow from a handful to hundreds; she reigned over the construction of a new, multipurpose building on New Hampshire Street; and Friday night, she announced the establishment of an endowment worth $170,000.
The endowment - named after Evans - was announced Friday night at a dinner honoring her more than three decades of service to the arts center, 940 N.H. On Saturday, a gathering at the arts center celebrated her tenure.
"One of my dreams, and I've said many times before I retired, I wanted to make sure that the arts center had an endowment," Evans said. "But because of the day-to-day activities of running the facility and running the operation, the endowment just kept getting put on the back burner."
She has been soliciting donations since she retired. She said art patrons Ross and Marianna Beach donated $50,000 to the endowment.
"It's something we can all do to secure the future," Evans said, adding that further donations can be made by sending gifts to the arts center.
Evans came to Lawrence from Albany, N.Y., where she held a similar position at an arts center that was part of a private school for girls.
Judy Billings, a former arts center board member, said the endowment will help fund scholarships, as well as sustaining the center's operations.
Billings said Evans' contributions were felt by the entire community.
"Ann has given her heart and soul to this institution," she said. "This community owes Ann Evans a debt of gratitude for all the work she has done for the arts in the community."
She said Evans' greatest accomplishment was working with the community and city leaders to move the arts center from its former location at Ninth and Vermont streets to the 40,000-square-foot venue that opened in 2000. In her 33 years, attendance grew from 4,000 people a year to 100,000 a year.
Evans said the success of the arts center was due to the community's support.
"Every part (of the center) has grown monumentally. It's a tribute to the community," she said.
Interim executive director June Jones said a national search for a new director is under way.
"One of the things we're looking at is how we can best serve the community," she said.
Jones said the center's marketing department is working "to ask people (in Lawrence) what they want, what they need : to provide the kind of synergy this facility is capable of. There are so many opportunities to do that at a center like this."
Lawrence resident Gary Haworth attended Saturday's celebration, which featured a slide show of Evans' accomplishments projected on a wall.
Haworth marveled at the arts center's transformation from a "musty" former library to the "airy" space it now occupies.
"I've known Ann for a long time. I admire the work she's done here," he said. "She's really built this up to be a remarkable Lawrence institution."
Copyright 2018 The Lawrence Journal-World. All rights reserved. This material may not be published, broadcast, rewritten or redistributed. We strive to uphold our values for every story published.